It has become a weekend ritual for the both of us to visit the Pho Tan on Sundays for lunch.  The Pho Tan is located at 4598 Main St, at 30th Ave. They serve the typical Vietnam cuisine such as pho beef noodles, broken rice, vermicelli, and Vietnamese style coffee.  Their menu is quite extensive with more than 100 items.
View Larger Map
The restaurant is quite nice and clean.  It has Vietnam inspired paintings and decor around the restaurant.  The restaurant seats about less than fifty people.  Sundays seems to be quiet for lunch.   We seem to always be the first ones there if we arrive at 11am.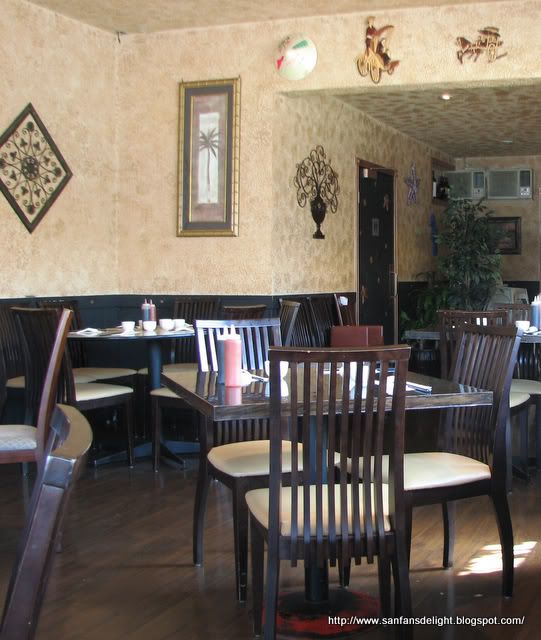 Today, Fan's choice was the #77 which is called the Bun Ga, Bi, & Cha Gio. This translates to grilled chicken, shredded Pork and spring roll on rice vermicelli.  This is the normal pick of mine as I have a good experience each time.  This vermicelli is cold and served in a large soup bowl with chicken, pork, salad and one large spring roll laying on the top.  It is quite a filling lunch for $7.50.  I highly recommend you give this a try if you get a chance to visit.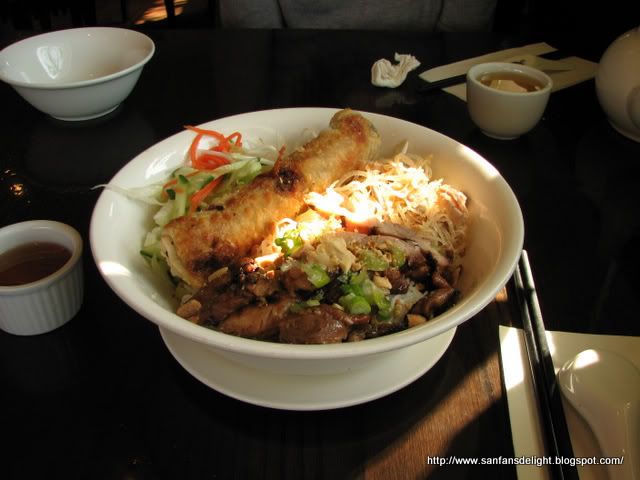 San's choice was unusually small this time. She opted for just an appetizer.  She chose the #5 Ga Nuong Cuon which translates to grilled chicken roll.  This is a delicious spring roll with vermicelli and grilled chicken wrapped with what appears to be rice paper.  It comes with a peanut dipping sauce.  According to San, this appetizer is big enough to be a meal by itself.  The cost of this is $5.50.
SFDD gives Pho Tan 4 out of 5 Delights.