We like to order pizza on days when we want to eat at home and we don't want to mess up the kitchen.  We normally order it from their 9471 No. 2 Road Richmond location.  This is about five minutes further away from our local Panago.  According to wiki, Domino's was started in 1960 and is the currently the second-largest pizza chain behind Pizza Hut.
View Larger Map
We had an entertainment coupon for Domino's pizza so we took advantage of it by ordering a couple of their famous 'feast' pizzas.  They have a selection of 12 pizzas to choose from.  From our experience, they are quite generous with the toppings on the feast pizzas.
Tonight we ordered a Hawaiian Feast and a Deluxe Feast Pizza.  The Hawaiian was full of sliced ham and pineapples blanketed by a thick layer of mozzarella.
The deluxe had a more variety of toppings on it including sausage, pepperoni, green peppers, onions and mushrooms.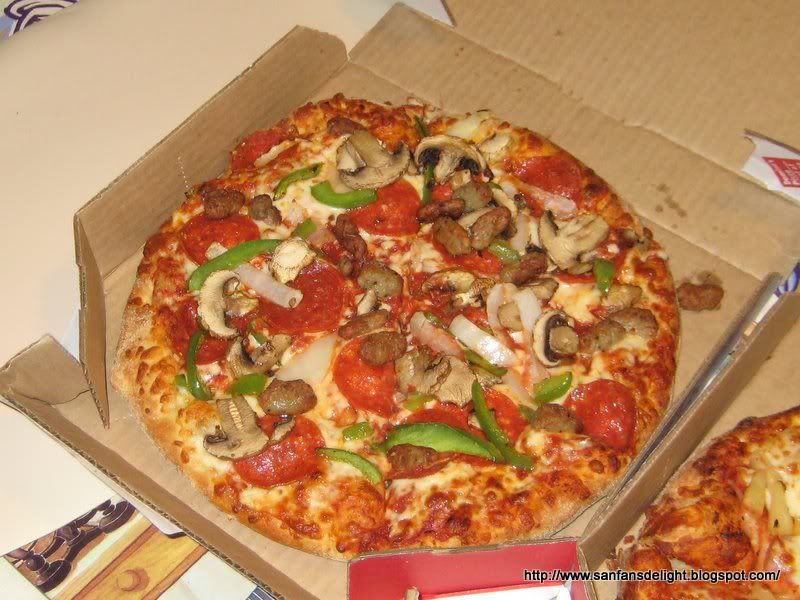 The pizzas just came out of the oven when we went to pick it up and were still hot when we got home.  Toppings were generous as usual.  The hand tossed is their default crust and it was nice, light and fluffy.  I can certainly tell the big difference between these Dominos pizzas versus the $1-$1.50 per slice downtown Vancouver pizzas.
For tonight's pizzas:
SFDD gives 4.5 out of 5 Delights.