Beefy Beefy Noodle is a Taiwanese style restaurant located at 4063 Main Street Vancouver, BC.  Just a warning that the pics on this post were taken with my camera phone so the quality is not that great.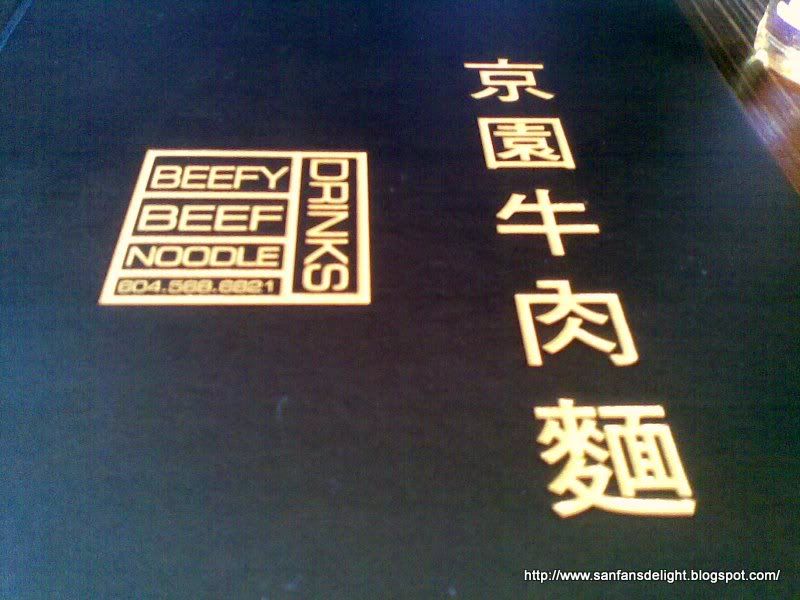 This restaurant hasn't been in this location for very long but each time we passed by on the weekend, the parking lot was always full with crowds inside waiting for a table.  I believe it is an extension of another noodle joint on Willingdon near the BCIT campus.  We had an opportunity to try it out today.  It was a Monday afternoon so it was not very busy when we arrived as only a few tables were taken.
We started by ordering some appetizer dim sum dishes, a minced pork rice and a spicy beef noodle soup.  My rice was the first to arrive since it was probably the simplest dish to make.  It was also the cheapest item on the menu.  I usually like to order this rice dish at Taiwanese restaurants because I like to eat rice and it is simple enough to fill me up.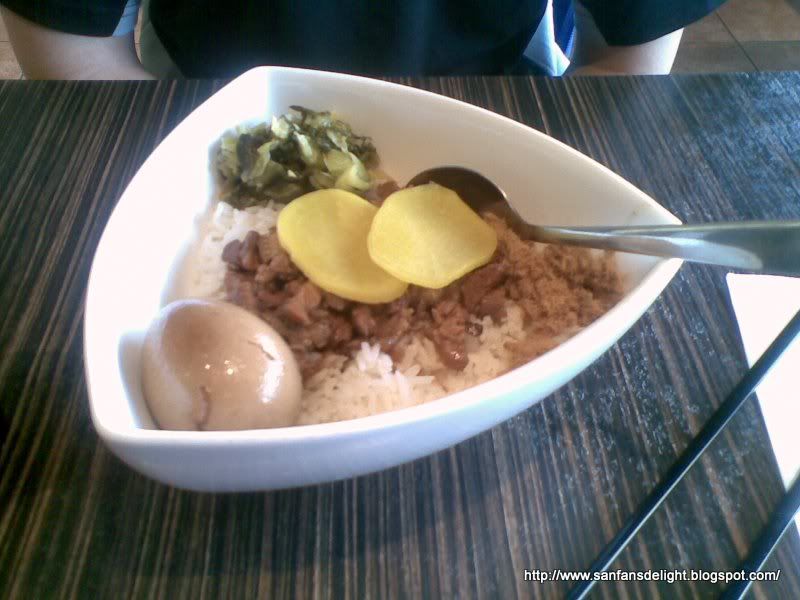 This was served in a triangle bowl.  I seem to recall seeing the same bowl at other Taiwanese restaurants too.  It was quite a generous serving of rice with the enough toppings to cover it.  This one included a marinated egg, dried pork floss and some preserved veggies.  The pork was on the fatty side though so it made the rice more juicy.  I always feel that it is a bonus to get an egg because other places don't come with an egg.
The next item that came was the spicy beef noodle.  The soup was definitely very spicy! There was a layer of chili oil floating on the top of the soup so San kept on hacking after each sip of soup.
She likes spicy foods so she couldn't resist.  San, I don't think you can handle the spicyness anymore!  The beef was thick and tender.  Four slices came with the noodles.  The noodles were quite good as it was not too soggy.
The appetizers came after our main dishes arrived.  First was the green onion pancake. 
Six pieces arrived, pan fried to a lightly brown color.  It was not too oily or too salty. Maybe it was on the bland side. Most importantly, it did not look deep fried and oily like some other places we've tried.
The veggie dumplings came steamed in a bamboo basket. As usual, it the steamed dumplings typically come with with a ginger vinegar for dipping.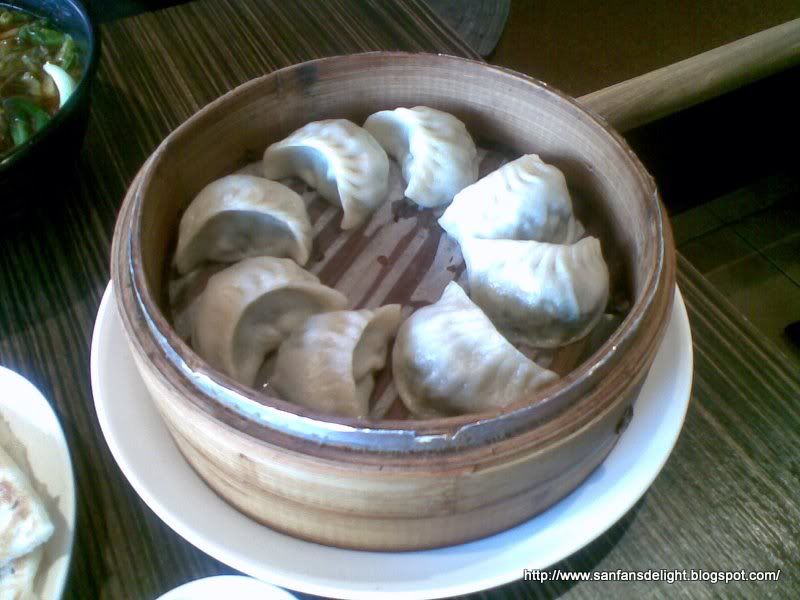 It came steaming hot with eight pieces.  The skin was not too thick which made it easy to bite into. It was filled up with veggies which had enough flavor by itself even without the ginger vinegar dip.
We ordered too much for the two of us so we ended up packing up some of the onion pancake for my mom and dad.  The service was quite friendly with lots of smiles.  Perhaps they were able to give us extra attention because it was not too busy.  The prices are quite reasonable.  The downside is that it will be hard to find a table if you come on the weekend.  Also, the parking is very limited as it is located in a small strip mall.  One dish we will try next time is the fried popcorn chicken like dish.  It is supposed to be one of their signature dishes.
SFDD gives 4 out of 5 Delights.