Bing Shing is located in the First Avenue and Renfrew neighbourhood.  We stopped by for dim sum on early Sunday morning.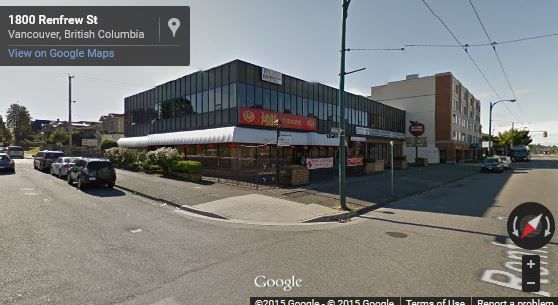 We got there before 10:30am and there were plenty of tables. The restaurant quickly filled up after 11am though.  Parking is not that great as it is a busy intersection with T&T and another dim sum place across the street.  They do have underground parking but we did not venture down under to see how many spots were available.
As it was not too busy, service was quick as we got our tea and hot water pots a couple of minutes after we settled down at our table.
This restaurant does not use dim sum push buggies in case you were looking for that.  I think most places now use the 'modern' ordering system where you check off the your orders on a piece of paper.  This can be a good thing hygienically, as you wouldn't know how long the food has been circulating if it was on a buggy.
Apologies for some of the blurry pics.
The BBQ pork buns were fresh out of the oven.  They were being promoted by the server as she brought out a new batch to sell.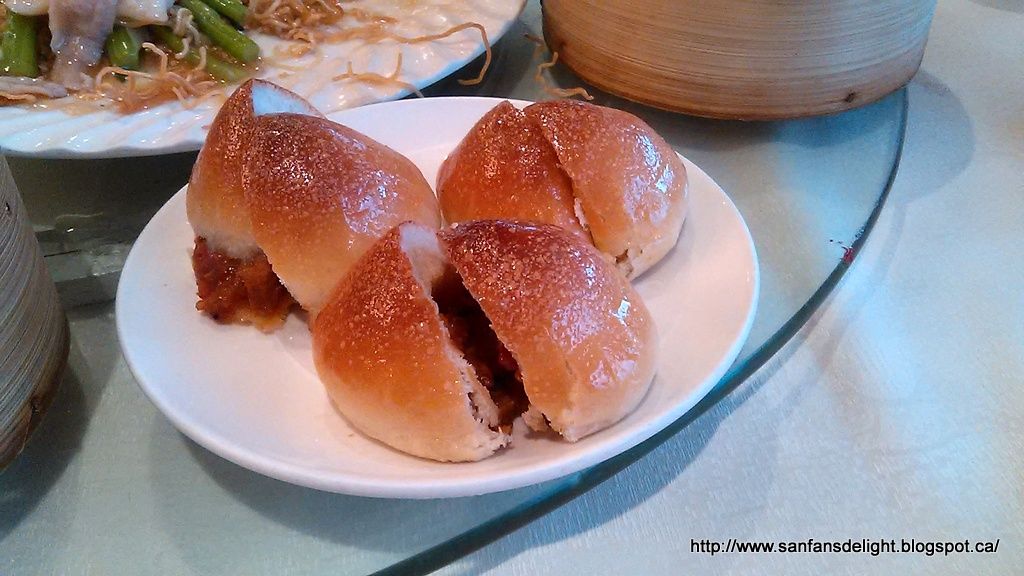 They were very soft with a nice buttery shine on the outside.  The BBQ pork inside had a nice amount of sweetness to it and was not very fatty.  I personally like these a bit more than the steamed BBQ pork buns (white).  These proportionately have less bun, more meat.
Next up is the chicken feet with spareribs on rice.  The pieces of pork were not too fatty.  They were cooked tender with light seasoning.  If it's not salty enough for you, you can pour some of the sweet soy sauce included. 
The chicken feet were a bit on the skinny side though.  Rice was fluffy.
The chicken sticky rice wrap is a favourite item too. The flavour was good and the rice was not overly sticky.  It had the right amount of meat filling inside.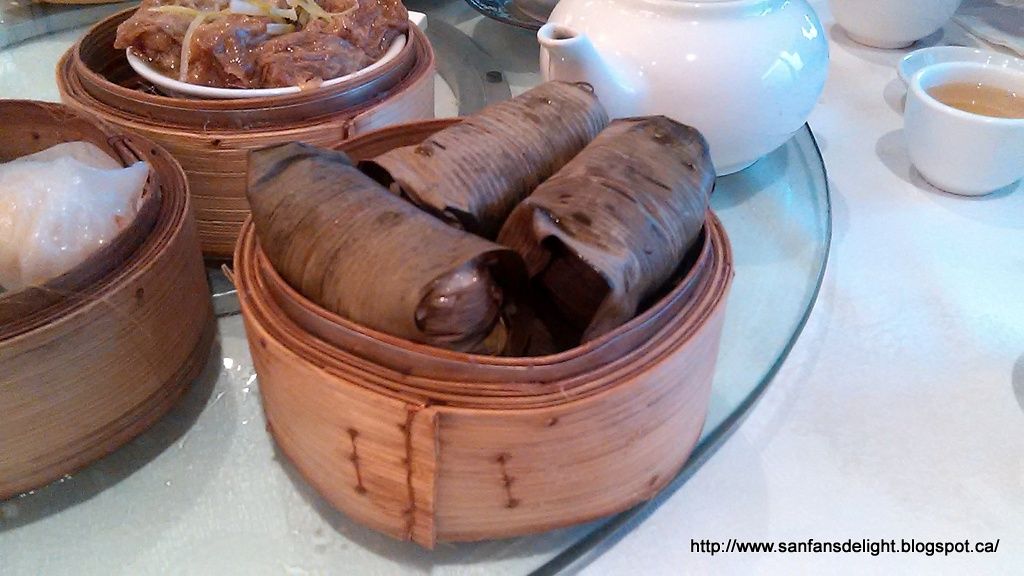 We ordered 2 of these bean curd rolls with minced pork inside, I think one of our guests really likes these.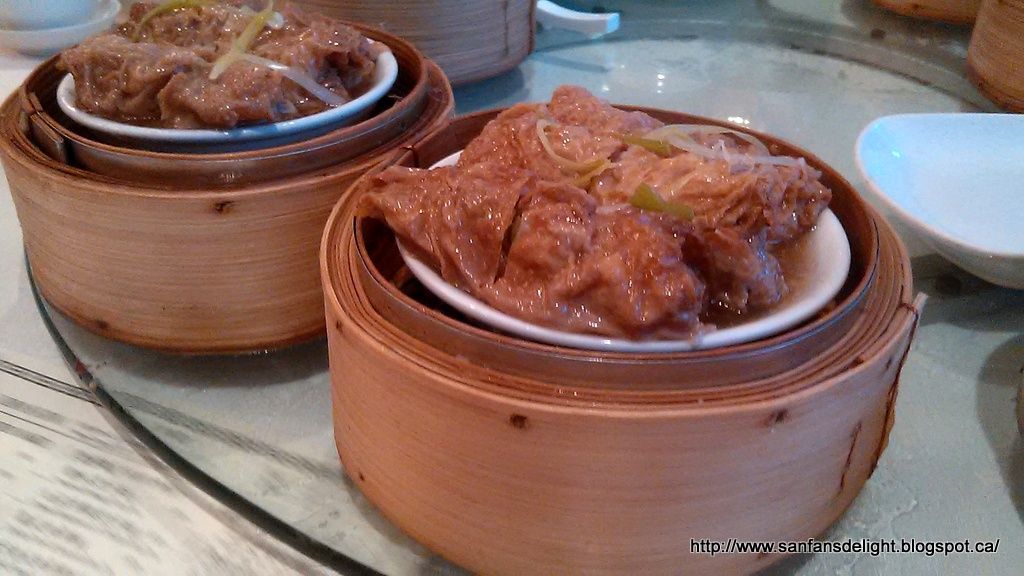 The meat was not overly fatty while the bean curd wrap was cooked enough so that it does not fall apart, still keeping it's texture.
Finally, as we were craving for noodles, we ordered the House Special chowmein.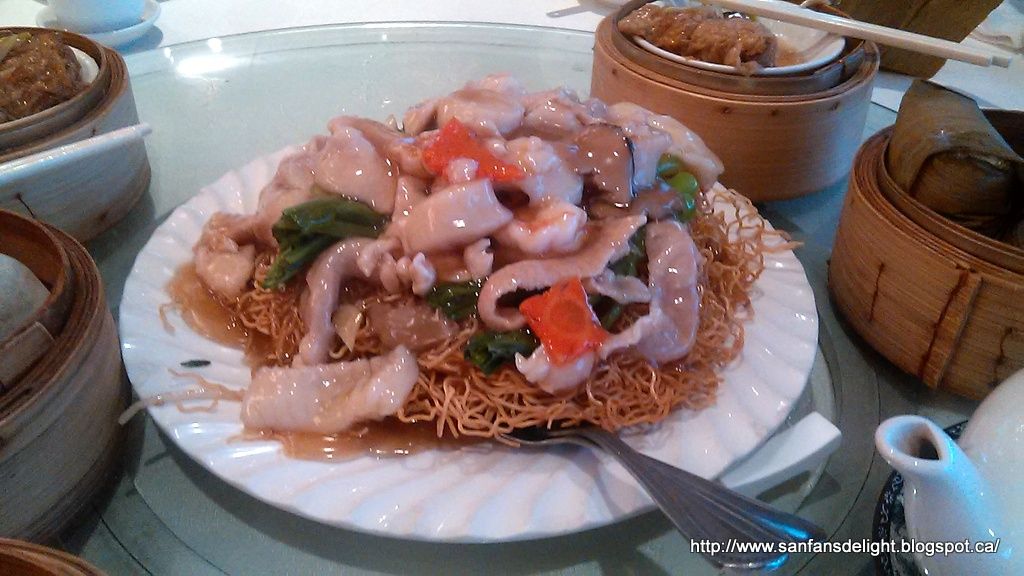 This is like the everything noodle.  It was generously topped with chicken, pork, fish and assorted veggies.  The sauce was not too overwhelming and did not have too much MSG.  The noodles were crispy and fresh.  You can tell it came straight off the Wok and onto our table.  We'll definitely get this again next time as it proved to be a great value.
Overall, the service was adequate.  We went early to avoid the crowds.  The food did not take long to come out and the servers kept out teapots topped up.  You just need be careful with parking as it is in a residential neighbourhood with restrictions.
SFDD gives 3.5 out of 4 Delights.