Aji Kura is located in the middle of the Victoria Street shopping area on 43rd Ave. We came to try it out after seeing the groupon deal. The restaurant is rather small so make reservations. It looks to be operated by some young entrepreneurs.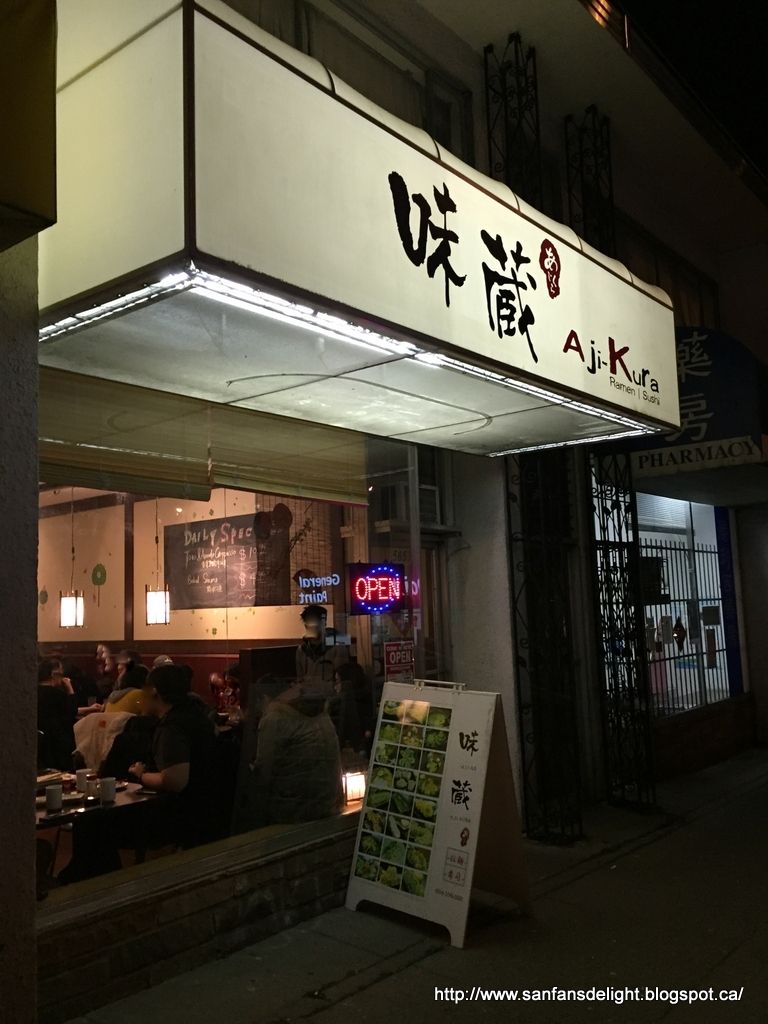 We went on a Friday night with reservations for a party of 4. Because the restaurant is so small, many walk-ins had to be turned away when they were told of the potential wait time. That is rather unfortunate to see that.
The restaurant was full and there was only 1 server. She was rather overwhelmed with busting tables, taking orders and serving food. It was a while before she was able to bring us tea and take our orders. This is forgivable seeing that she was all by herself and we were not in a hurry given that it was the weekend.
The groupon deal was $69 for 5 course meal for a party of 4.
1) Four miso soups:
Miso soups were just like the ones you get at all you can eat places, nothing special I guess.
2) Two orders of spicy tuna tartare or salt-baked saba. We got one of each:
Tartare: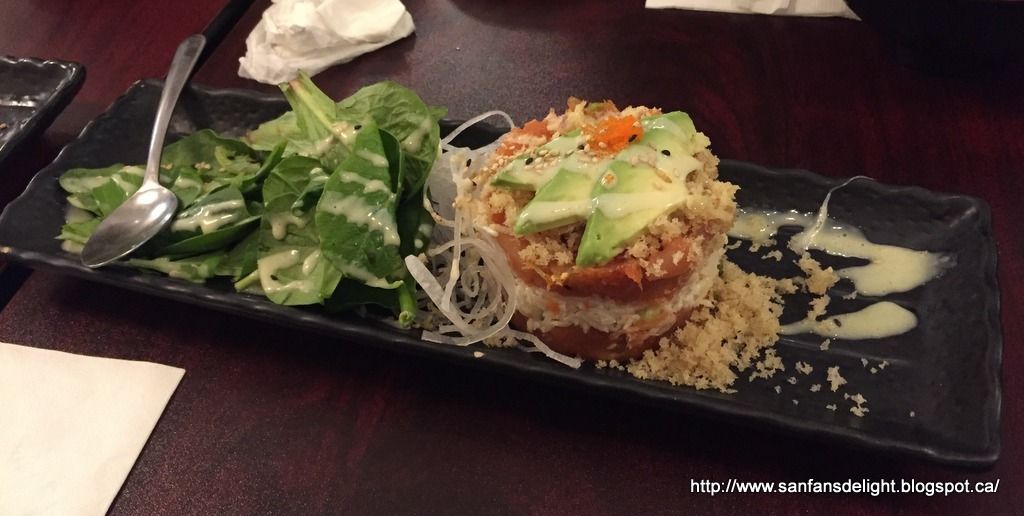 The tartare was very fresh and not too spicy. It was presented very nice with advacado on the top and tempura crips on the side. Seeing the orders at the other tables we can tell they were prepared very consistently.
Saba:

The saba had some nice flavouring to it and was nearly a boneless fillet. The meat was soft and not overcooked on the grill.
3)Two orders of truffle tuna carpaccio or truffle salmon carpaccio (8 pieces each). We also got one of each.
Salmon: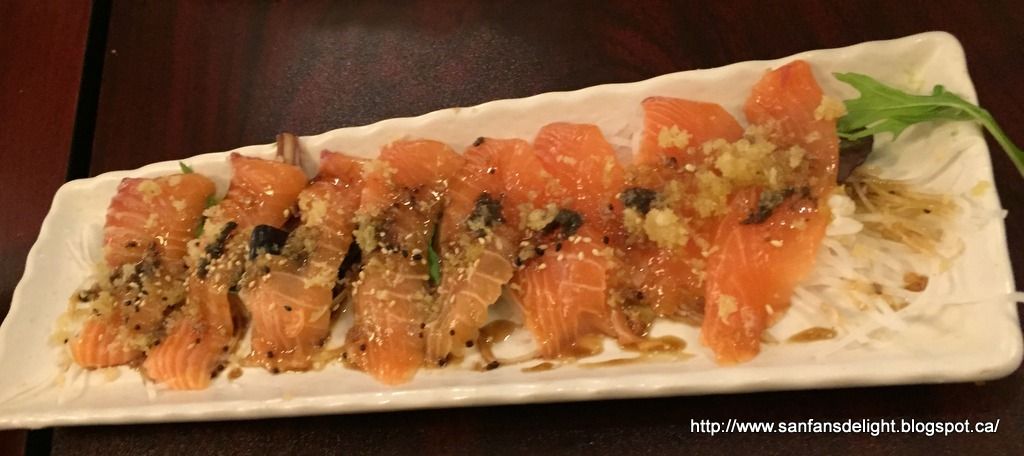 Tuna: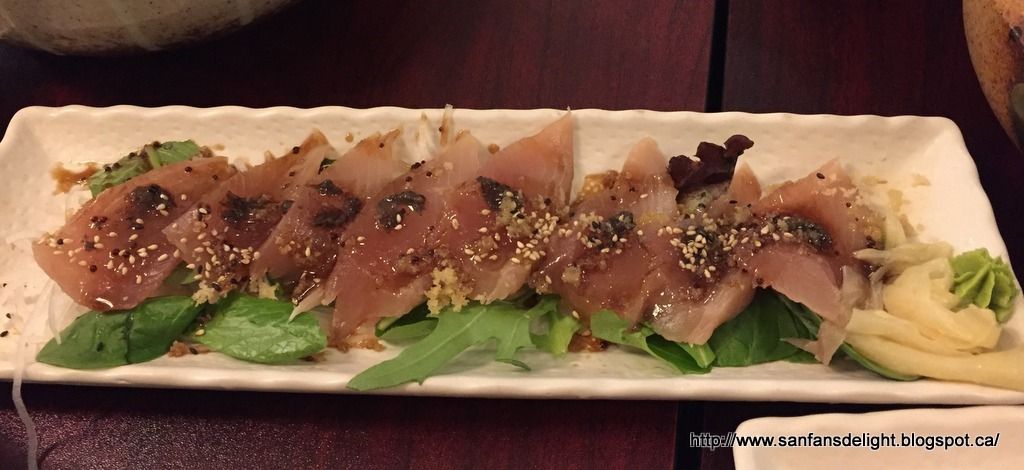 Both were also presented nicely. It was a nice way of tasting sashimi. We would have preferred it to be colder though. But no one got sick so it was fine.
4) Two orders of takoyaki or Yam Bam Bam, with yam tempura, mayo, and fish roes. We got one of each.
Yam: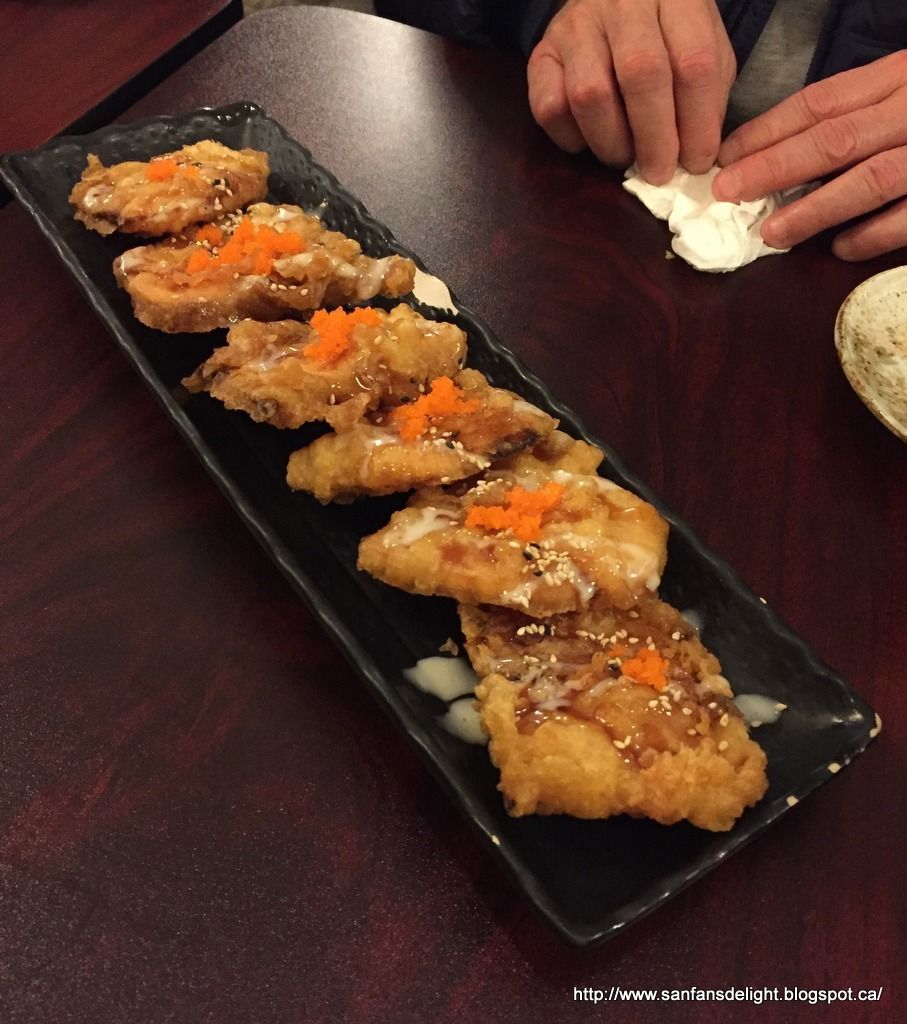 The yams were large pieces fried in tempura. The tempura wasn't a nice bright gold color though. It could be a sign that it was over fried or maybe the oil needs to be changed.
Takoyaki: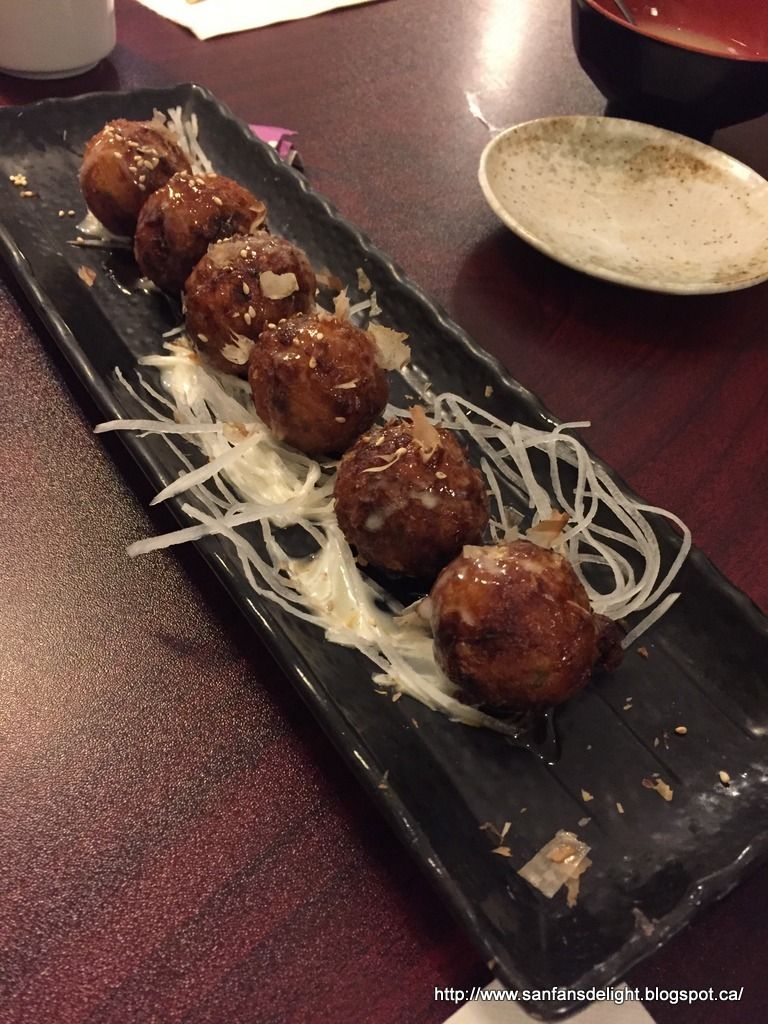 The takoyaki may have been a bit too mushi inside but had generous portion of octopus inside.
5) Four entrees: ramen or chef's special roll. We all ordered Ramen. You can choose different flavours listed in their ramen menu.
We got Miso Pork Soup Ramen:
Plain Pork Soup Ramen: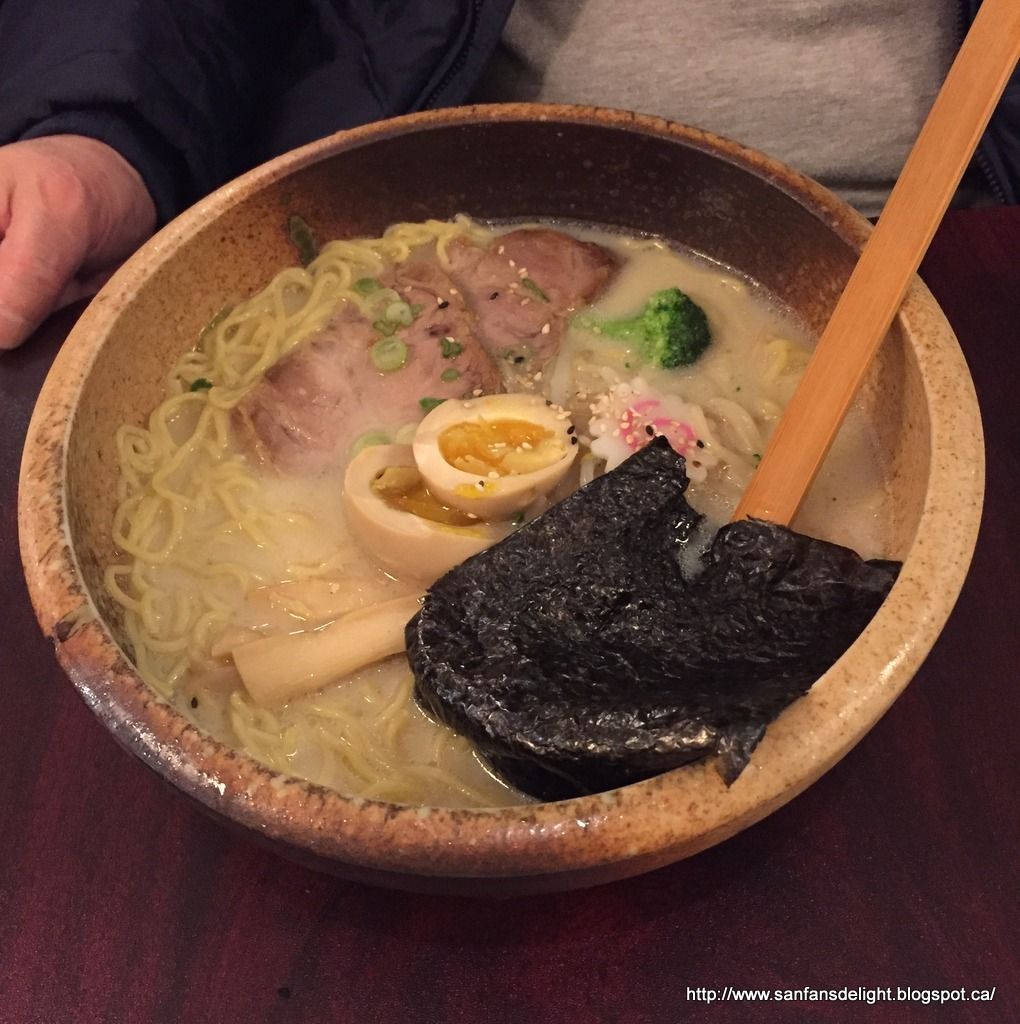 The Ramens were served in very shallow bowls and did not seem to have enough soup. But the taste was fine. The soup had deep pork flavouring and the pork cha-siu was tender. The eggs that came with the ramen were flavoured and we thought it was a tad too sweet for our liking.The noodles were almost al-dante, but not quite there yet.
The timing of serving the food was not done very well. The food just came at random times. We expected the Ramen, being the main entree to come last, but it came in the middle. We noticed other tables also getting impatient about their orders too.
The food was good and presented nicely. Being a groupon deal, the lack of service was forgivable. It also appears there were only 2 people prepping the food orders in the kitchen so it was easy to see why they were overwhelmed. Having said that, they still did not rush the food orders which was good. They were able to keep the quality consistent throughout.
We would be interested to come back in the near future to try their specialty sushi rolls as they looked rather nice too.
SFDD gives 3.5 out of 5 Delights.