Neptune Wonton opened a new location inside the YVR outlets. We wanted to avoid the weekend crowds on No 3 road so we thought we check out this location where parking would be more convenient.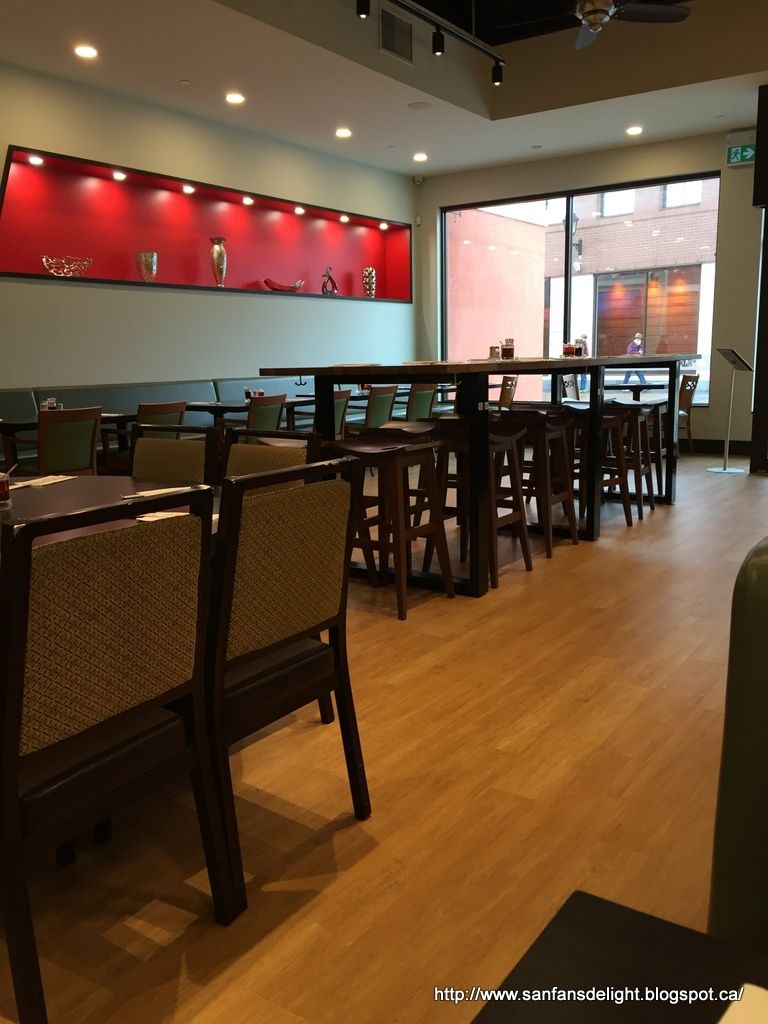 We saw the menus posted here on Zomato where the prices looked reasonable but unfortunately the menus were from their other location. The menus at this particular location are a lot more expensive and a lot more limited. They charge a huge premium on their menu prices for being in the YVR outlets.
We had a party of 4 and didn't have to wait when we got there at 11:30am Sunday. There were only 3 other tables occupied. After promptly being seated we noticed the difference in the menus and the high prices.
We ordered some congee, Chinese donut and wonton noodles.
The menu claims that the Chinese donut is freshly fried only after you order. OK so that's why they charge $3 for an order, let see what it looks like:
Did you also notice it looks hollow? Did you also notice this looks like it's half of a regular order at other places? It is true, this has got to be the worst restaurant quality Chinese donut. It is just comparable to the frozen ones you buy at the supermarket to make at home yourself. In fact, even the supermarket ones are better.
This looks more like freshly "refried" then freshly fried from the nearly transparent oily texture. Big thumbs down here.
The congee orders average $9 per single serving bowl. Price is comparable to Kongee Dinesty. Except here you don't get a soy milk like they do at Kongee Dinesty.
Here they come.
Cuttlefish Ball Congee:
Pork Meat Ball Congee: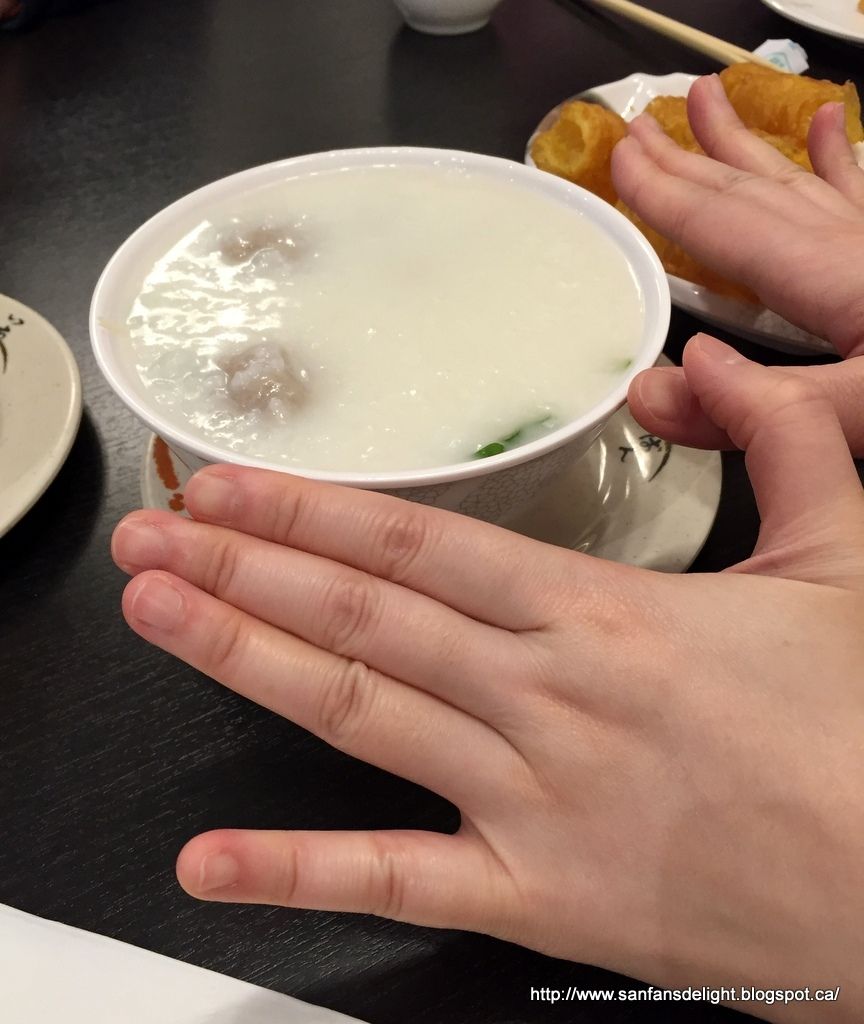 The congees were horrible for the following reasons:
The bowl is about 2/3 size of a regular sized congee that you get elsewhere as you can see in the pic. (Disclaimer: Ok the angle of the hands and bowl in the pic is misleading and not as small as it looks in the picture)
The congee is full of MSG
Worse of all, the rice and water in the congee separated soon after it arrived. This meant the congee is not prepared properly. It was like they just put cooked rice into hot MSG water and called it congee.
Next is the shrimp wonton noodle soup: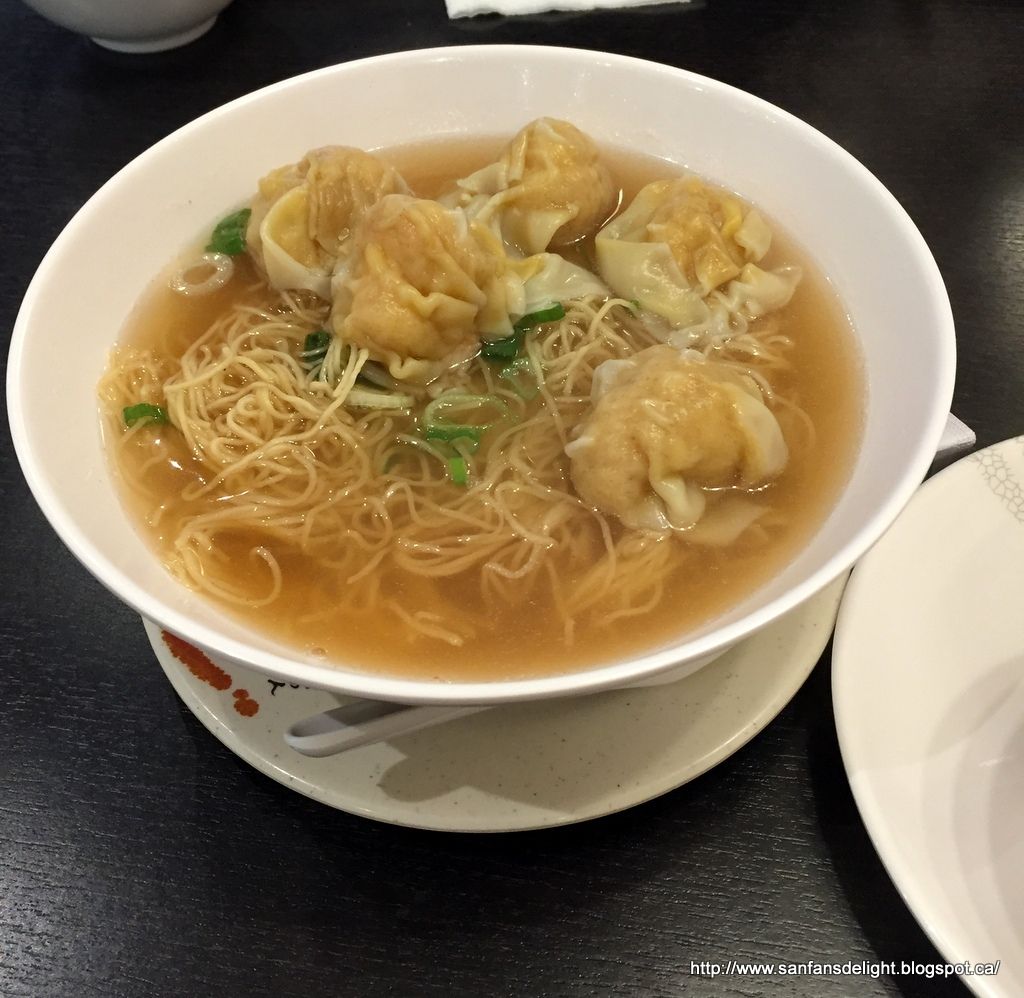 This was a good sized bowl. The wontons had many pieces of full sized shrimp inside. The noodles could have been a bit more chewy. Despite the OK tasting bowl of wonton noodles, it does not justify a $9 premium price.
Finally, another thing we got peeved about was the 10% gratuity charge automatically added to the bills. This is not some high class rated restaurant, nor were we a large party. They snuck it in the bill and also did not tell us about it when I was paying with my credit card.
So after tipping again on the credit card machine, I looked at the bill again where I saw the sneaky 10% already added. I would be less mad if they told me clearly that tip was already added. I mentioned to the manager that I double tipped and there were no issues refunding me the duplicate tip. While leaving I saw other tables still leaving cash tip on the table. Clearly they did not see the sneaky tip added on their bill. I also hate it when restaurants calculate tip on the after tax amount. Who pays tip on taxes!!
Anyway, this was a less than stellar experience. Sure it's convenient if you are hungry from all the shopping and there aren't many choices in the outlet, but don't make a special trip there just to try this place like what we did. You will regret it!
We'd definitely won't be coming back again. Watch out for the added gratuity.
SFDD gives 1 out of 5 Delights.