We met up with some old friends at Locus located on Main and King Edward. It's right next to Hawker's Delight. We made reservations ahead of time for the Sunday breakfast and it was already busy when we arrived at about 11:00am. They use the Yelp system for booking tables which is convenient as they send you a text and email confirmation.
The manager was very welcoming and friendly. He chatted with us while we waited at the bar for the rest of the party to arrive. Locus has a healthy looking organic menu with various items to choose from that will fit both meat eaters and the vegetarian folks.
We were seated near an open window so it was not too stuffy and was bright. If you want, you can choose to sit further inside the restaurant, but it was a bit too dark for us.
One of us ordered pineapple juice. They claim that it is freshly squeezed. Nevertheless it tasted fresh and sweet
They also provide table bread which uses a good premium quality bread. This appeared to be raison and date bread, much like the ones you can get from Terra Breads. It includes some whipped butter and the other one is a whipped chipotle style butter.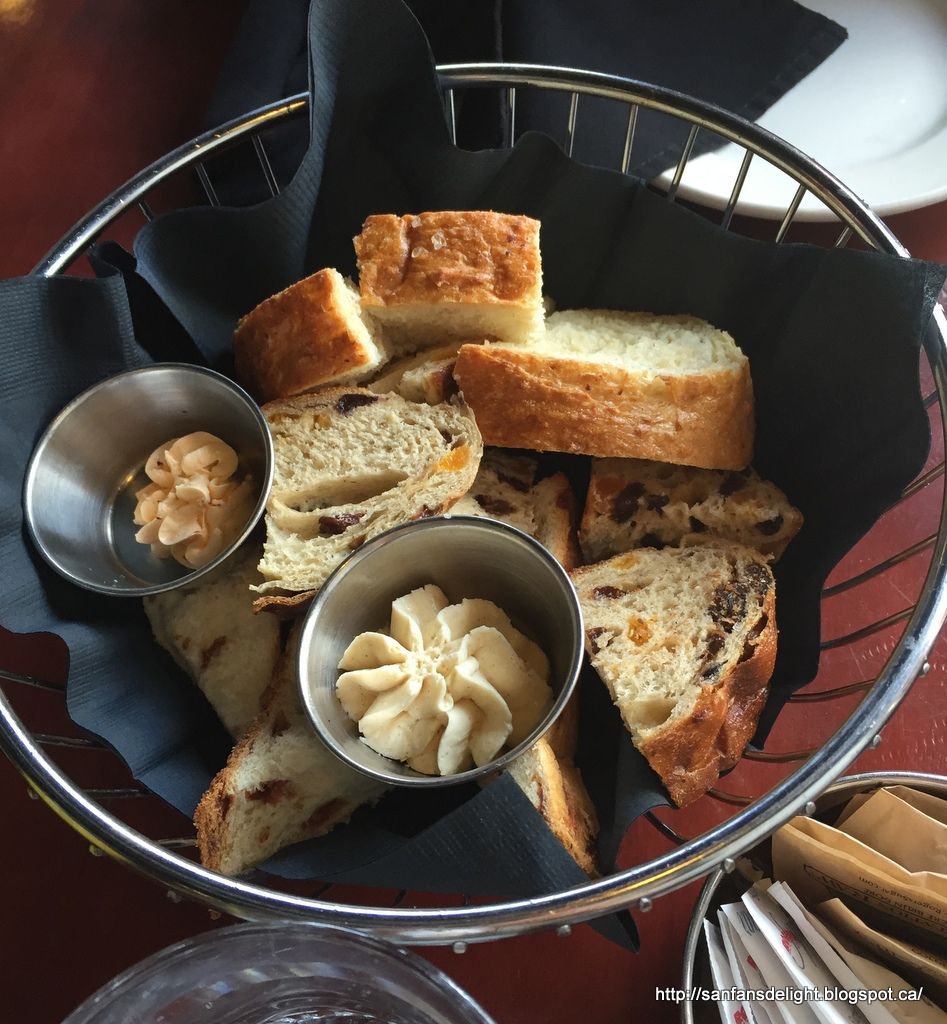 The bread is also refillable so that was a nice bonus.
This is the classic eggs breakfast with scrambled eggs. The eggs are very dark yellow which means it is an organic omega 3 type free range egg. We chose chicken sausage which was a nice fat link.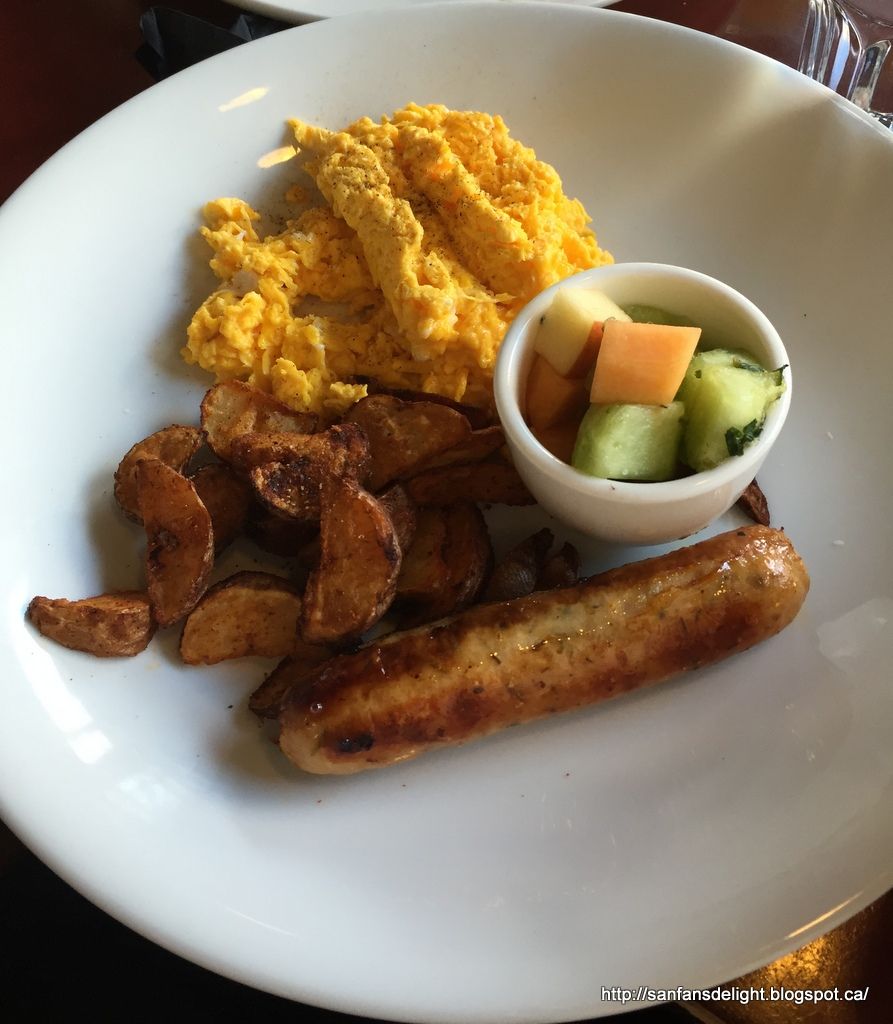 It comes with a small dish of fruit. The eggs were cooked to order, not too dry. It also came with some pan fried potatoes.
We also ordered the egg white frittata. It was also made with free range eggs and came with some pan fried potatoes and a small dish of fruit. The egg had spinach, ricotta and mushrooms cooked inside so it was quite savory.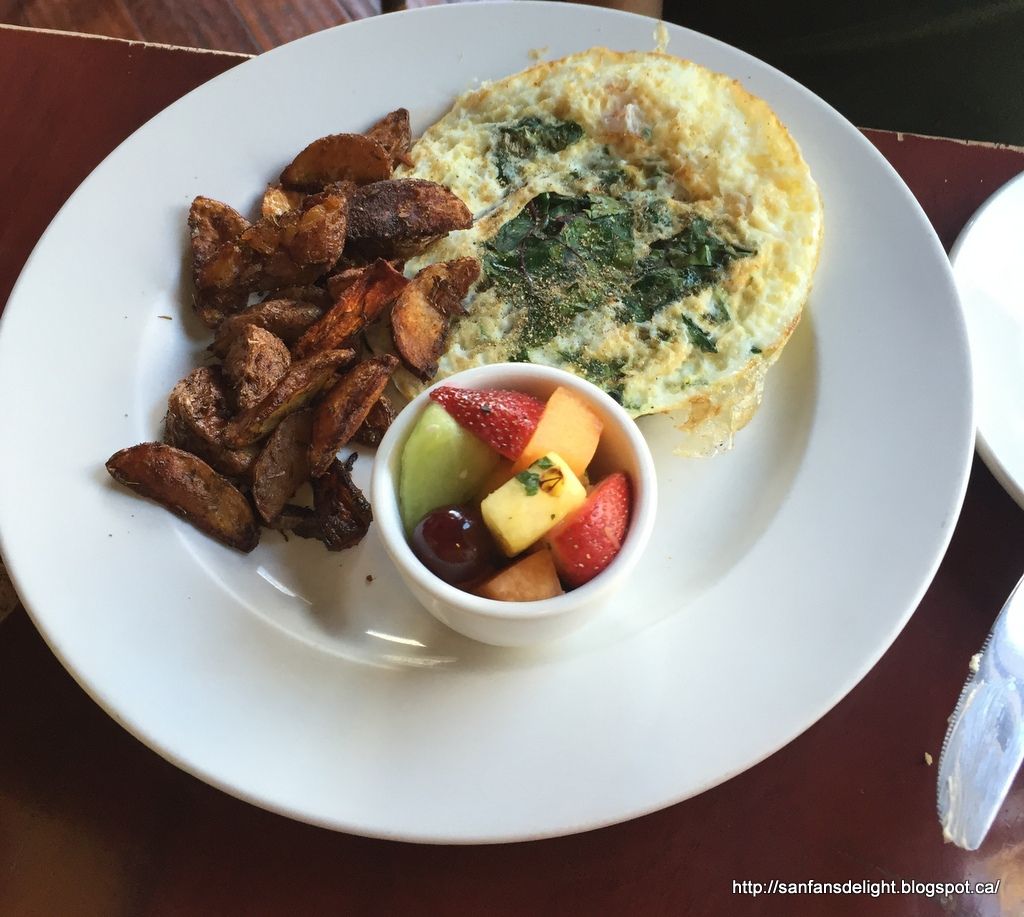 Service was good and it was not too pricey for the type of food that you get. Parking can be a pain along Main street as this is located in one of the most busiest sections. However, if you don't mind walking, plenty of parking can be found along the side streets.
We'd love to come back again to try their happy hour specials as this place seems to offer a laid back, unpretentious atmosphere for people to catch up with old friends and relax.
SFDD gives 4 out of 5 Delights.