We normally drive down to Seattle whenever we head down south for our shopping trips.  This time we wanted to go someplace new so we chose Bellevue.  Bellevue is about the same distance to Seattle except you have to take a different highway to get there.  Bellevue is east of Seattle.  Bellevue Square is the place all will go to as it is a huge shopping mall with lots of brand name stores.  The parking lot was gigantic.  We still had to circle up near the top to find a spot though. 
We got here on Saturday afternoon after visiting Boeing in Everett in the morning.  From Everett, Bellevue Square was about a 45 minute leisurely drive on the highway.
Both of us were hungry after doing so much walking on the Boeing tour.  We had planned on going to the Cheesecake Factory in Bellevue Square since it has been more than six months since our last visit.  We have gone to the Seattle and the Las Vegas branches of this restaurant and thought the food and service quality was quite consistent and well done.
The Cheesecake Factory had its own entrance from the outside of the mall.  It looked dark from the outside.  We thought it was closed or empty.  As soon as we entered we saw that it was quite packed with hungry patrons.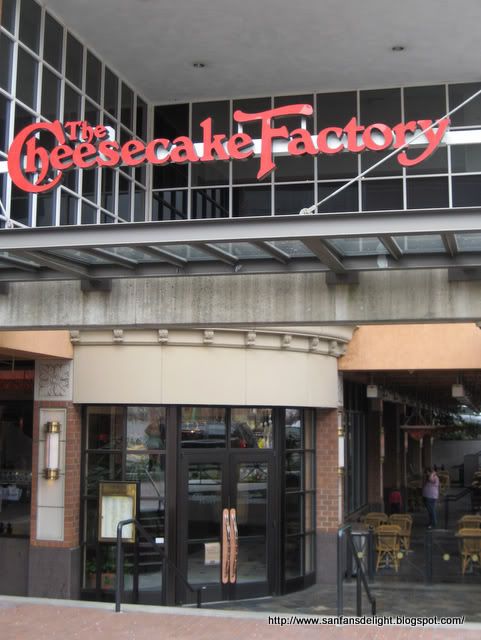 We only had to wait about five minutes for a table.  While waiting, we enjoyed looking at the numerous cheesecakes and desserts near the entrance to decide what we were going to have after our lunch.
After being seated, we had water and dinner bread brought to us.   They usually give you a small loaf of white as well as a rye type of warm bread to get you started.
The both of us ordered from their lunch special menu.  They had sandwiches, pizzas and salads to choose from which are discounted from their regular menu. 
We ordered a turkey sandwich which came with a salad and a creamy vegetable soup.  We also ordered a spaghetti with meat sauce.  From our experience, we knew their dinner portions are really huge so you get good value for your money.  To our surprise, the portions of these discounted lunch specials were also very huge!
Sandwich:
Pasta: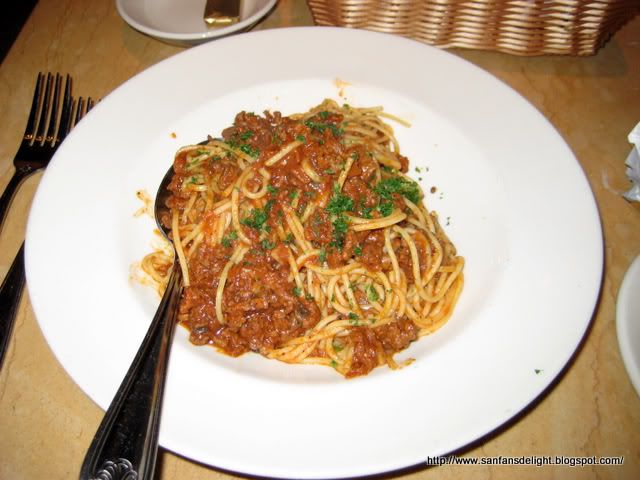 We enjoyed both of these lunch meals very much.  We finished off by ordering a raspberry lemon cheesecake.  We normally order the plain but I insisted on trying something new this time.  This cheesecake was a bit on the sour side due to the inclusion of lemon.  Overall it was not bad as it was not too filling like other cheesecakes. But the original cheesecake is still our favorite.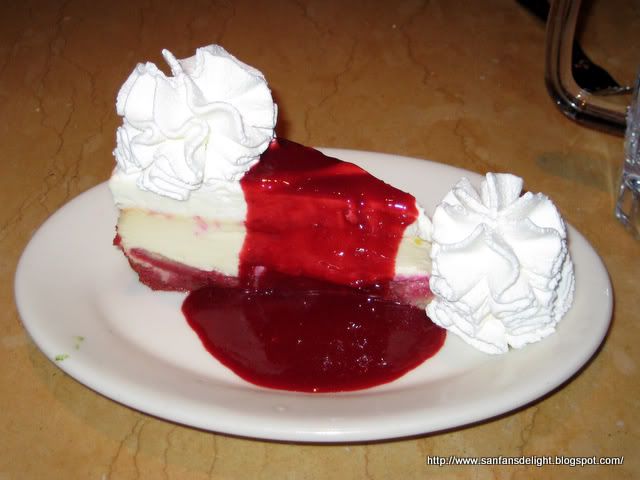 Food, service and quality was consistent with other locations of Cheesecake Factory.  We enjoyed our lunch very much and would love to come back again.
SFDD gives 4.8 out of 5 Delights.