On the Easter long weekend, we took a nice drive down to Washington state.  We had a few places in mind to visit including the Boeing factory, Microsoft and Bellevue.  As always, outlet shopping was also going part of the trip.  We visited a few restaurants which will be part of the next few blog entries.
We expected the border crossings to be packed since it was a long weekend.  To make it interesting, we decided to try the Aldergrove crossing for the first time hoping that the wait will be shorter.  From our place, Aldergrove was an extra 35-40 minute drive from the Peach Arch.  To our surprise, Aldergrove was also extremely busy.  The total wait was about 4.5 hours on the Good Friday.  We kept our ears on the radio while waiting in line to learn that other folks at the Peace Arch also had to wait similar hours.
We were extremely hungry after finally crossing the border in the mid afternoon since we skipped breakfast.  We had planned on going to IHOP for our usual breakfast but it turned out to be a late lunch. Luckily breakfast is available all day at IHOP.  This IHOP is relatively new.  It is a few miles away from Bellis Fair in a nice looking strip mall.  It was not very busy at the time we were there.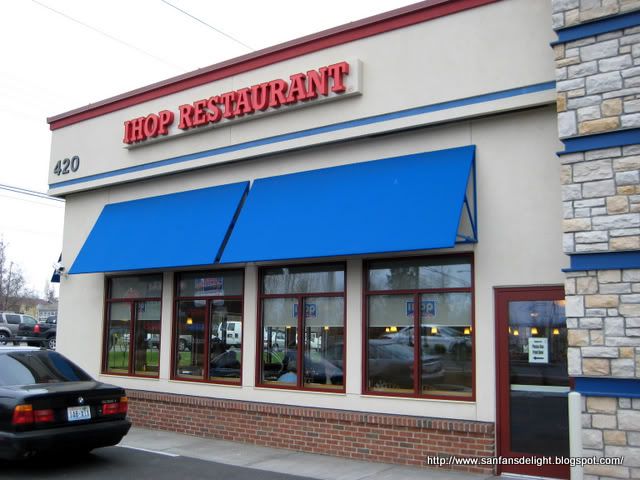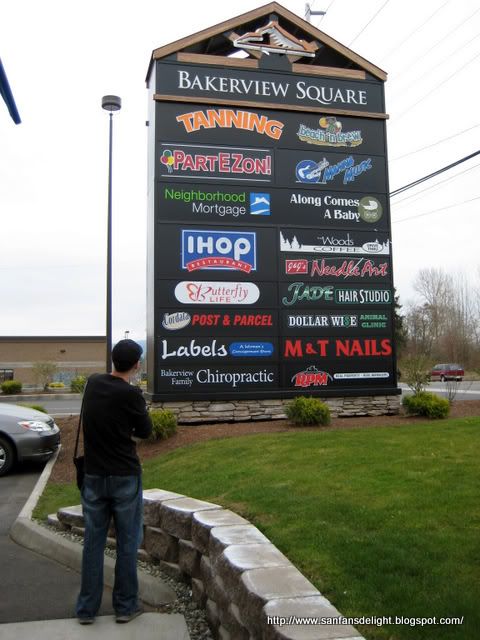 IHOP was running a special on the loaded country hash browns breakfast.  These are made with a choice of meat and cheese cooked together with country style hash browns.  It came with an order of pancakes and two eggs. 
We ordered one with bacon and another with ham.  It was quite delicious.   The pancakes were also nice and fluffy. I especially enjoyed my order with bacon because it came with green onions and some sour cream.
With ham and eggs over hard: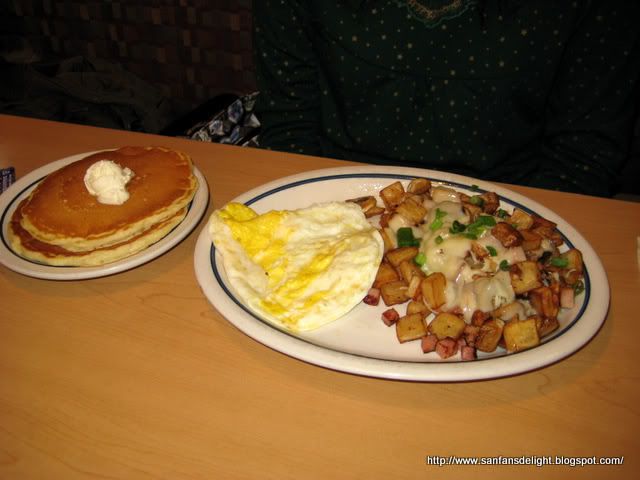 With bacon and scrambled eggs:
On the table was also a variety of syrup flavors which I would think represents how pancakes like to be eaten around the world.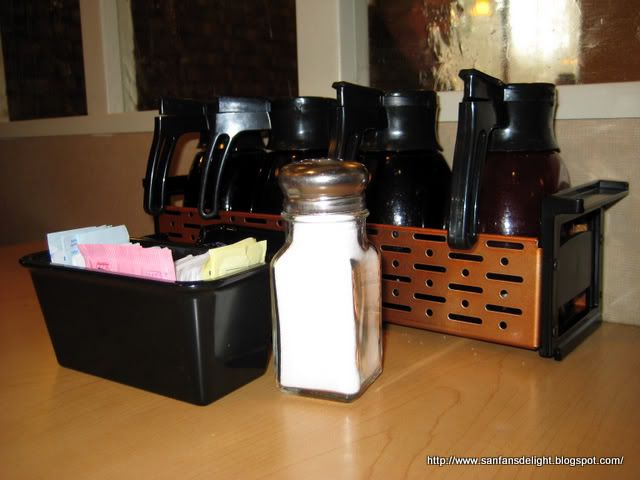 We didn't spend a lot of time here since we were behind schedule from the long border wait.  We chomped down the food quickly so we can have enough time to grab some Starbucks beverages a block away.  Overall, this IHOP had good service, clean and free wireless internet if you care for it.
SFDD gives 4 out of 5 Delights