Bubble World is best known for making bubble teas.  They have expanded to have shops all over the lower mainland.  Correct us if we are wrong but we think one of the very first shops is in Granville St. in southwest Vancouver. 
Around summer of 2010, they opened up a new shop in Richmond's Union Square strip mall.  This mall is located just behind the Canadian Tire on No3 rd. 
View Larger Map
If you haven't been to this mall before before it is quite odd because you will see that there is like ten different hair salons. There are several restaurants in here as well as an Asian supermarket as well.  The good thing about this mall is that parking is plenty so you won't have the same problems as going to the Richmond Public Market or Aberdeen Centre.
When we first visited this shop, we were just aiming to pick up some bubble tea.  When we walked through the door we were surprised to see that it was a full service restaurant serving Taiwanese style food too.
Since it opened it, we've been here numerous times but never got a chance to record our visits here until now.  It's been getting more and more busy which is good news for the shop.  We like it since the beginning but we were a bit concerned since the shop was always empty the first few times we visited.  Business seemed to have started picking up during the Fall of 2010.
We were hungry today so we got an appetizer to share.  These are fried chicken knees!  If you haven't tried them before they are pretty neat.  They are chewy and with a bit of meat fried up in a peppery batter.  Normally chicken knees we seen at other places are fried as well.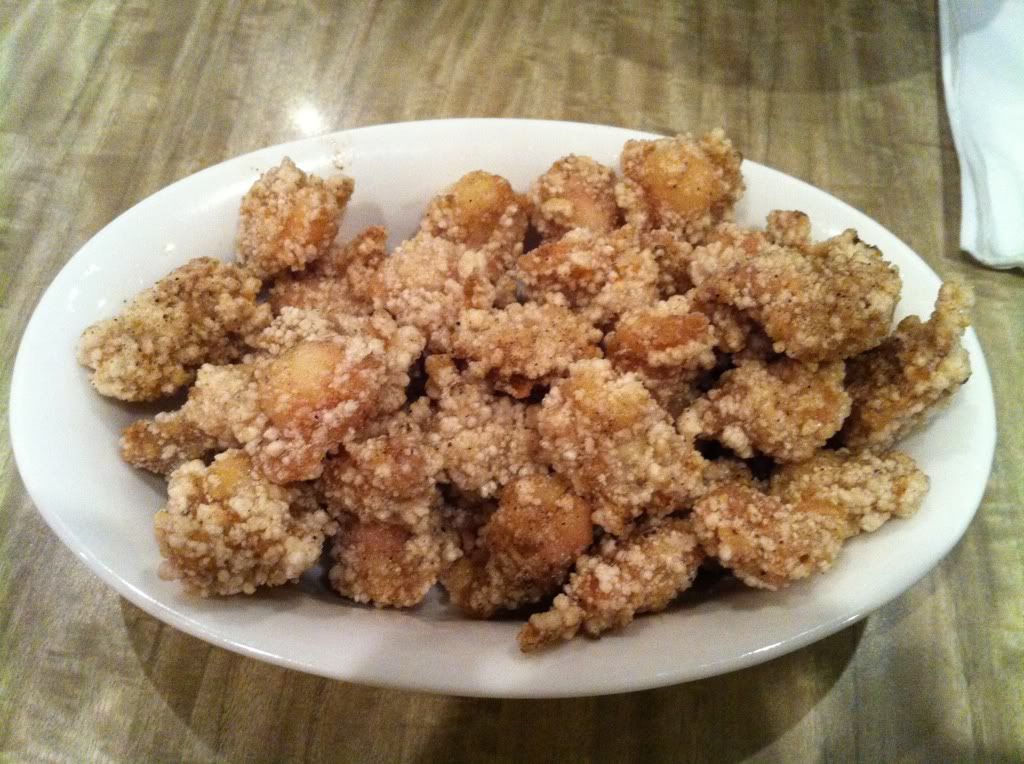 It seems to use the same type of batter as on their fried pork chops and chicken.  This was $5.
We ordered a simple Taiwanese rice bowl.  This is called meat sauce on rice and only costs $4 and change.  It comes with minced pork, preserved veggies and a marinated hard boiled egg.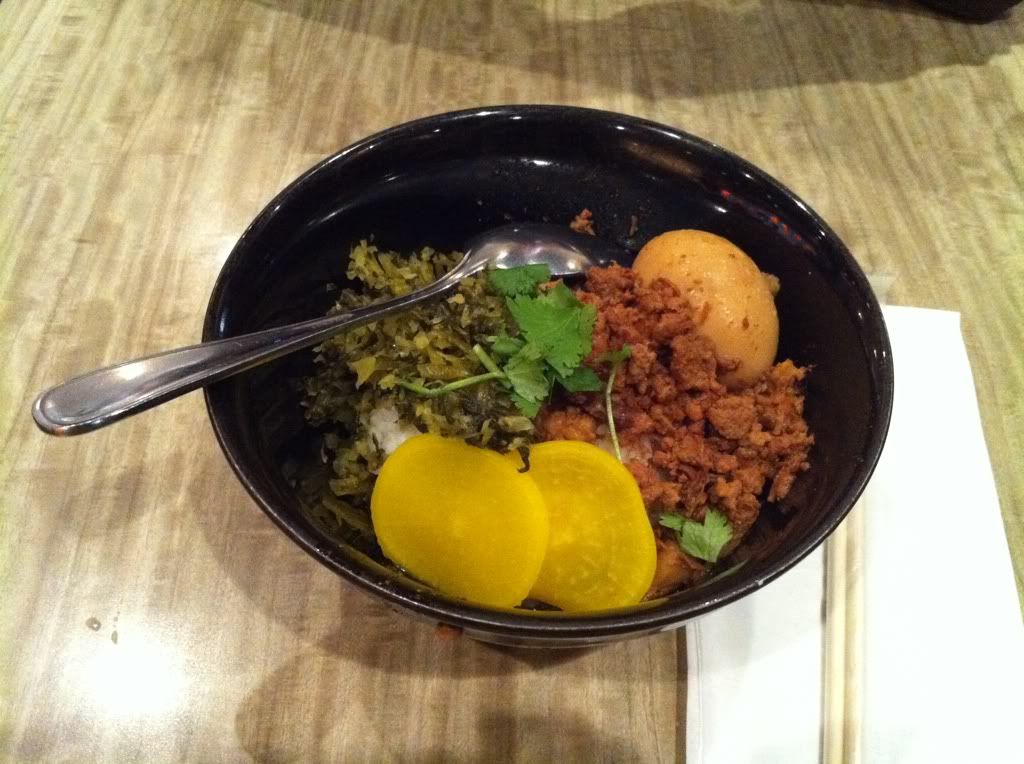 This is a good value dish except it seemed to have shrunk a bit since last year.  This rice dish is always the first to come out in fact it always comes out too quickly, like 2 or 3 minutes after you place the order .  It always comes even before the appetizers! They really should time it to come out with other main dishes.
The other item we got today was the deep fried fish fillet with noodle in soup.  This was $7.  If you like fish, then this dish is for you because it comes with three very large pieces of fish.  Not sure what kind of fish they use though.  Likely it's something cheap like cod.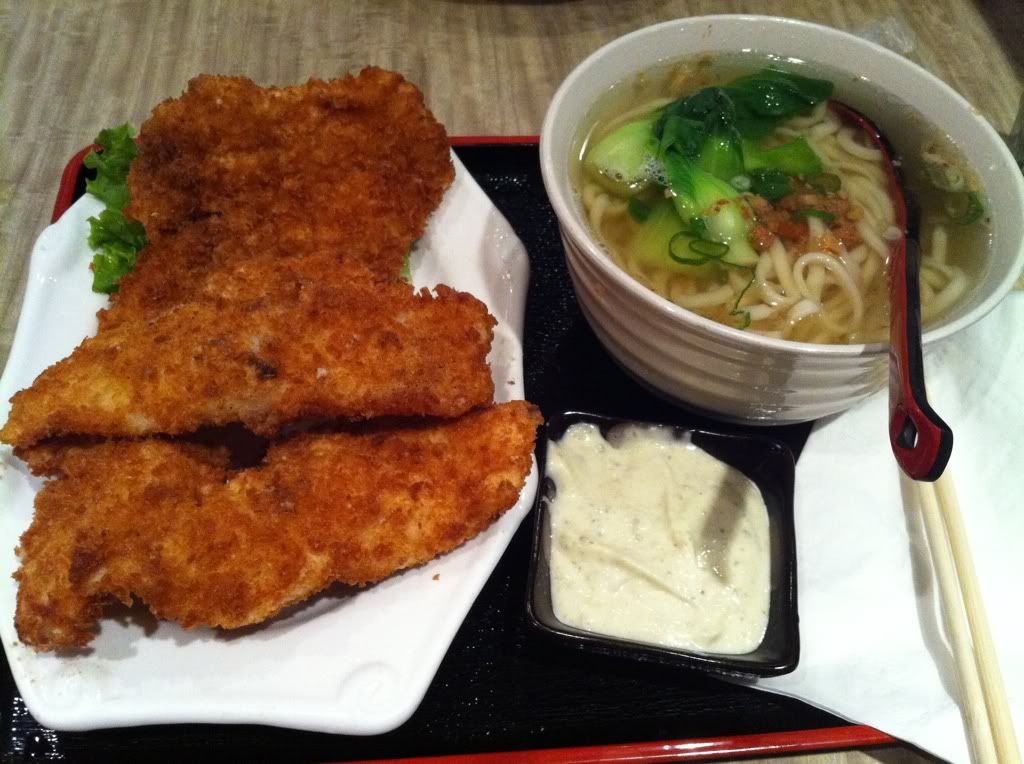 Quite good as the breading is not very thick.  It comes with a bowl of tarter sauce as well.  The bowl of noodles came with some shanghai Bok Choy veggies.
Overall bubble world did a good job with their kitchen menu.  The food is inexpensive and they have a good variety in their menu.    One thing we didn't like is that sometimes they play the music way too loud. Also their window blinds are paper thin so it can't block out the bright sun going down in the evening.  Seating is plenty and service is quick (except for the rice coming out too quick though).  Normally you wouldn't have to wait too long to be seated even during the busy time of the day.
SFDD gives 4.8 out of 5 Delights.