Saturday evening we headed down to East Van for a quick cheap dinner.  This place Sun Yee is located near the corner of Victoria and 41st Ave, among a sea of other Asian restaurants and grocery shops.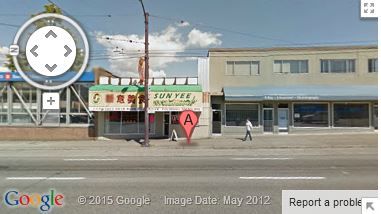 View Larger Map
We got there rather early, before 6pm because we wanted to avoid the crowds being Saturday night. Sun Yee is also known to be relatively inexpensive.   There were only 3 other tables seated.  The place looks family run with one waitress, a woman at the cashier who looks to be the owner and a kid on who looks to be her son just sitting on one of the tables playing with his tablet.
We went for the set menu where you get soup, rice, X number of main courses and dessert.  We chose 3 courses for about $40.  The soup of the day was a clear broth with chicken feet, pork bone, and melon. 
The soup was good as there was hardly any MSG, if any at all.  There was enough for each of us to have 2 servings in the small rice bowls.  Sorry, missed the photo of the soup.
The first dish that arrived was the peach sauce prawns.  This was very unique as we haven't tried such a flavour combination before.  This seemed to be the dish to try as others have recommended this.  It did not disappoint.  Prawns were large and fried in a thin batter, then coated with a light fruity peach sauce.  There was some peach pieces which appear to be canned.  It also had some pickled raw onions on the side with some black sesame mixed into it for flavour. A good dish to try.

The second dish that came was the fried fish with corn sauce.  We usually ask for the corn sauce to be on the side so it doesn't get soggy.  This was probably a Pollack fish fried in batter boneless.  Batter was a bit too thick on this one.  It was slightly over fried.  The bowl of corn sauce was quite good as egg white was used in it too.
The final dish we got was the sweet and sour pork chop.  This dish is different than that other sweet and sour pork dish mainly because this comes with bone and in bigger pieces.  Furthermore, this one has more Zestyness to it. The sauce is tomato based as well but I think they use more Worchester sauce to give it more zing.  Instead of pineapples and peppers, this one is cooked with lots of onions.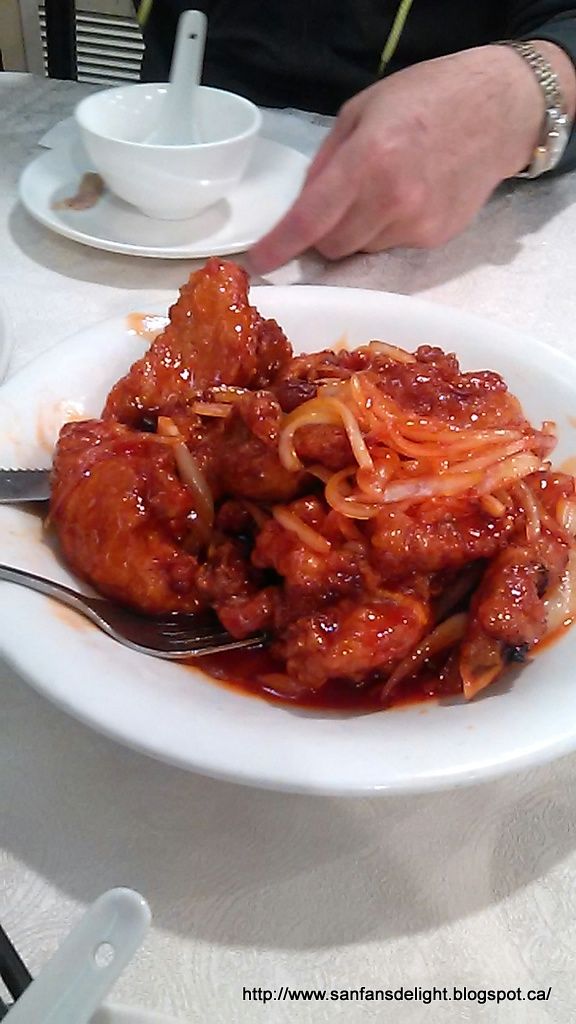 This one was well made because the pork was rather lean.  It was not drowning in sauce so it was well balanced.
You get one bowl of rice for each main dish.  It is odd that we must comment on the rice but unfortunately, the rice was not that great because it was unusually wet.  We figured it must be because they reheated the rice in the microwave and before doing so, they added too much water to the rice to keep it moist.
The dessert for the evening was red bean dessert with black sesame.
This was a rather unusual combination because at the end, the black sesame dominated the flavour of this dessert.  We would have preferred just a plain red bean dessert.
Upon observation, the dishes chosen from the set menu are about 20% smaller than if you ordered from the regular menu.  It didn't get too busy after all.  Only about half of the restaurant was occupied when we left at 7:30pm.
Overall this place is inexpensive.   Parking was not too bad as you can use the neighbour's parking lots (according to the signs).  The set menu has quite a large selection to choose from.  It's too bad the rice was not to par.
SFDD gives 3.5 out of 5 Delights.