While heading down south to do some overnight Xmas shopping, we revisited Outback as it's one of our favourite steak houses.  It's too bad we don't have this place in Canada.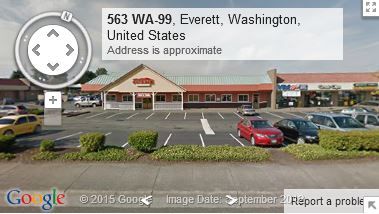 View Larger Map
The place is usually packed on the weekends during dinner time.  Knowing that, we went a bit later in the evening hoping the first round of diners would be on their way out.  It was still busy but there were only 3 other parties waiting for a table.  For our party of 5, we waited less than 15 minutes.
Our waitress was overworked as she seemed to have a big section to cover. However, she did make a point of coming to greet us and bring us bread and water before rushing away to other tables. 
We still had our unused survey bonus from last year.  Basically, you get their signature Bloomin Onion for filling out their survey. She also saw it and immediately put the order in first before coming back a bit later to take our orders. 
We can say that their famous Bloomin Onion is extraordinary consistent.  It looks and tastes exactly the same each time.  It is fried with a some light batter recipe and comes with a bowl of chipotle sauce in the middle.  The sauce is small but you can ask for more as it is definitely not enough for 5 of us.  You have to pull these off carefully so that the onion does not slide off the batter.  The batter has a nice crunch to it without being too oily.  Be careful when eating this because it is very addictive.  You may find that you are feeling almost full before your main course arrives.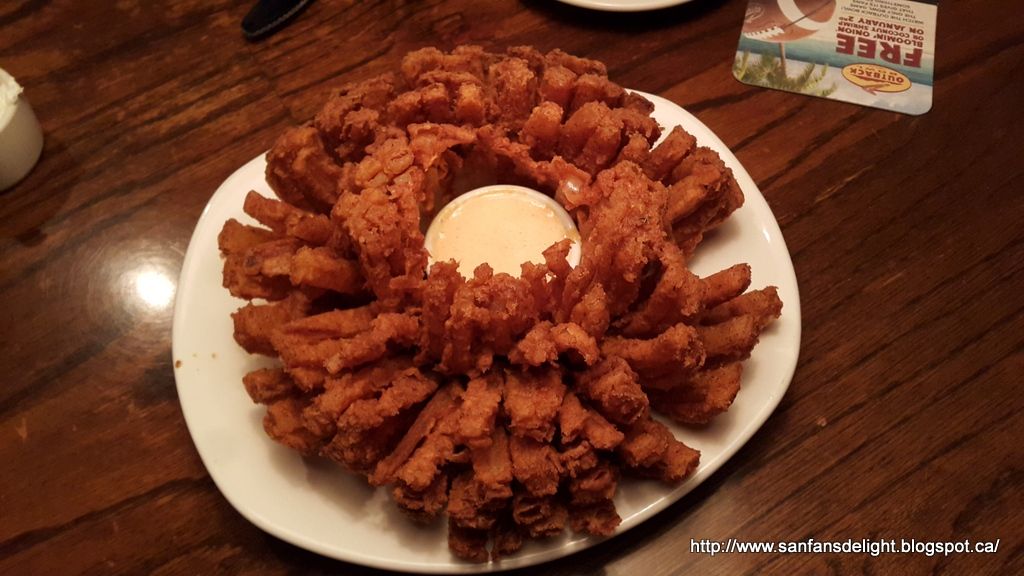 One of us ordered the strawberry lemonade.  This was a little on the sweet side, but great that it was bottomless like their other soft drinks.  This will be helpful as you will get thirsty chomping down on that Bloomin Onion.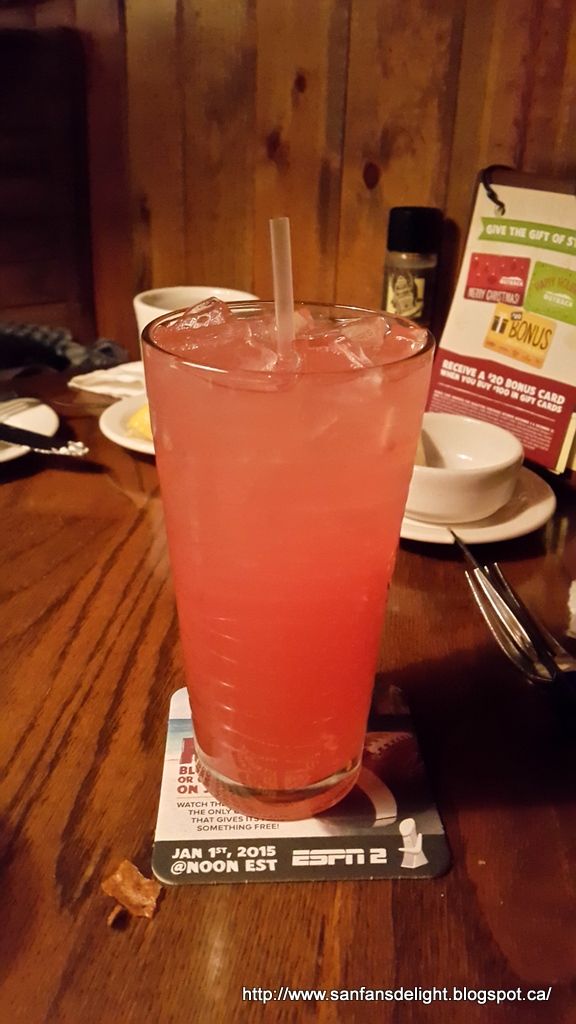 When ordering the steaks, you get to choose 2 sides.  Most of us chose their house salad.  You an pick whatever dressing you like, they have most of the common ones available.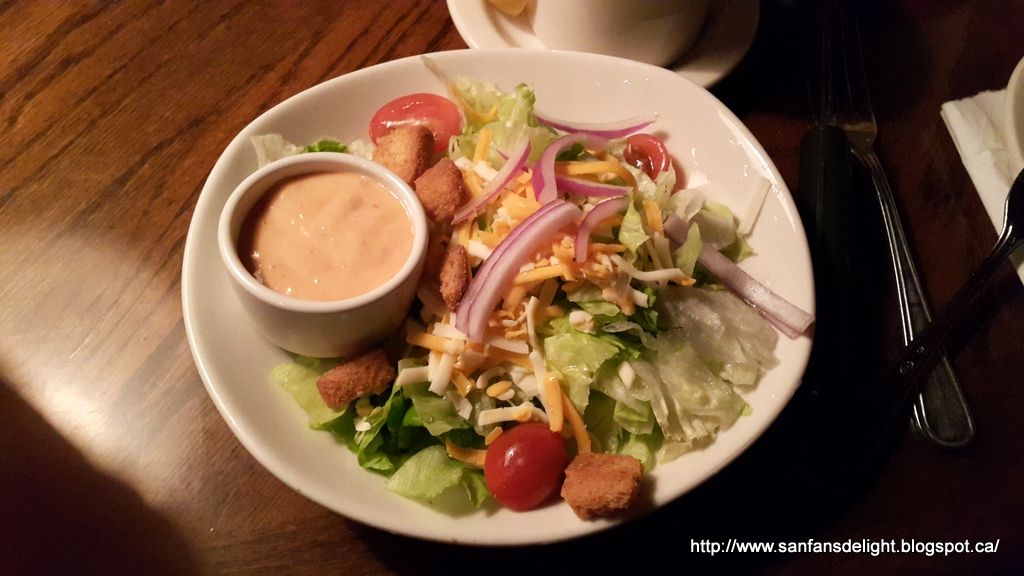 The veggies were very fresh with crispy lettuce red onions grape tomatoes and plenty of shredded cheddar and mozza.  The plates and salad were cold as it should be.
We ordered 3,  6oz signature sirloins, cooked to medium with mashed potatoes.
The steaks had good char on the outside with a good amount of seasoning.  We were a bit worried as it looked overcooked, but as soon as we cut in, we can see the right amount of pink consistent on all 3 orders.  The steaks were very juicy and flavourful.  The mash potatoes were good but would have been better if they blended some more of the skin into it.
Here is the steak with a fully loaded baked potato.  The baked potato was well prepared with a crispy skin on the outside and lots of bacon, onions and sour cream.
Next is the basic outback burger.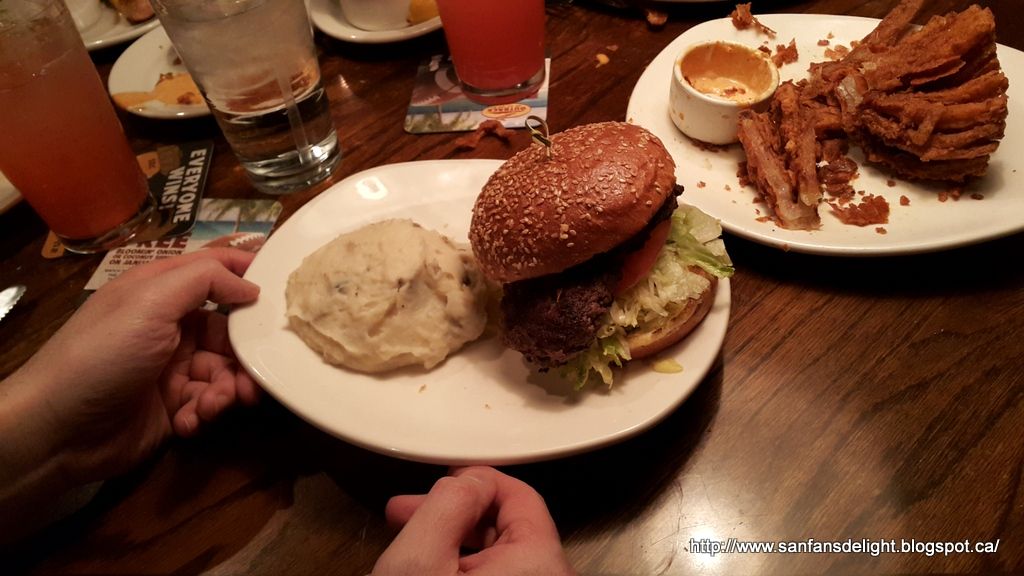 It has a big patty, lettuce tomato, onion, mustard and mayo.  I asked for the patty well done, but not burned.  It arrived just like I wanted it.  The beef was a little bland but nothing too concerning as the sauces made up for it.  Maybe it felt bland just because I had a big dose of chipotle before hand.
The last to show is the Alice Springs Chicken a fully loaded baked potato.  The chicken is topped with lots of cheese, mushrooms, bacon and came with honey mustard sauce.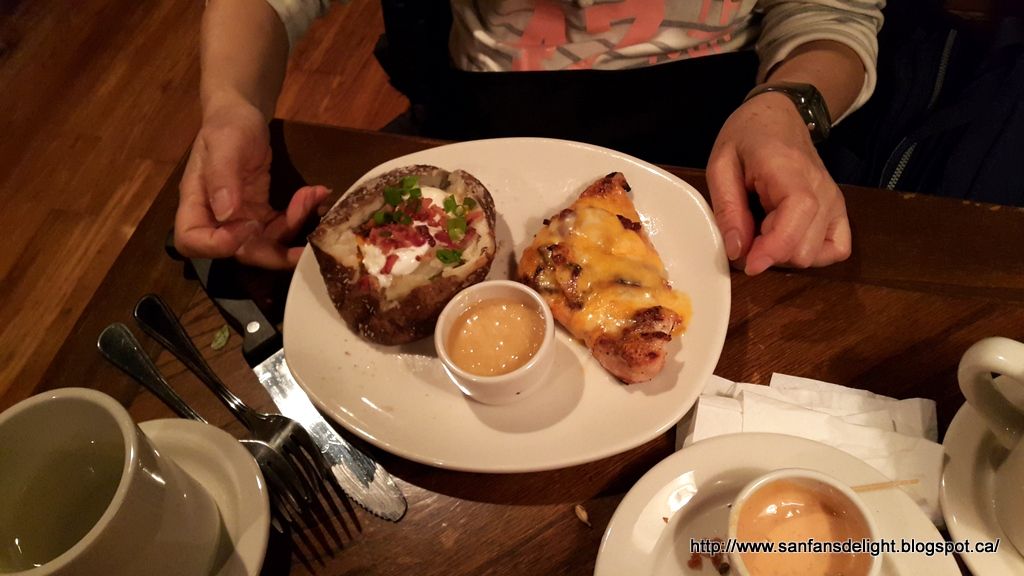 The chicken was cooked on a grill as you can see the char lines on it.  The chicken was moist and worked well together with the bacon and cheese.
There are a couple of locations of Outback Steakhouses in Washington state.  Driving by I5, you will see one near the Burlington Outlets too.  Outback staff are rather friendly and welcoming. If you go during a weekend prime time, be prepared to wait a while.
SFDD gives 3.5 out of 4 Delights.