We were strolling along Broadway with our empty stomachs growling and decided it was time for  breakfast.  It was a late breakfast as it was approaching close to 11am.  Luckily we passed by A&W in the VGH neighbourhood.  A&W's been serving up full sized breakfasts to compete with the other fast food joints.
A&W boasts the use of healthy ingredients such as hormone and steroid free beef in their burgers. Similarly, they proudly claim the use of healthy eggs coming from vegetarian hens that eat healthy!

For $5, you get a the Classic Breakfast that comes with 2 eggs, toast and bacon.  The eggs are made to order.  We asked for over-hard eggs on this one.  The bacons were well balanced with respect to it's crispiness. The toast was freshly hot out of the toaster, we skipped the butter but got a choice of different jam flavours or peanut butter packaged on the side.
The second Classic breakfast came with scrambled eggs. The eggs were a bit dry to my liking, but it wasn't bad at all as it was slightly seasoned.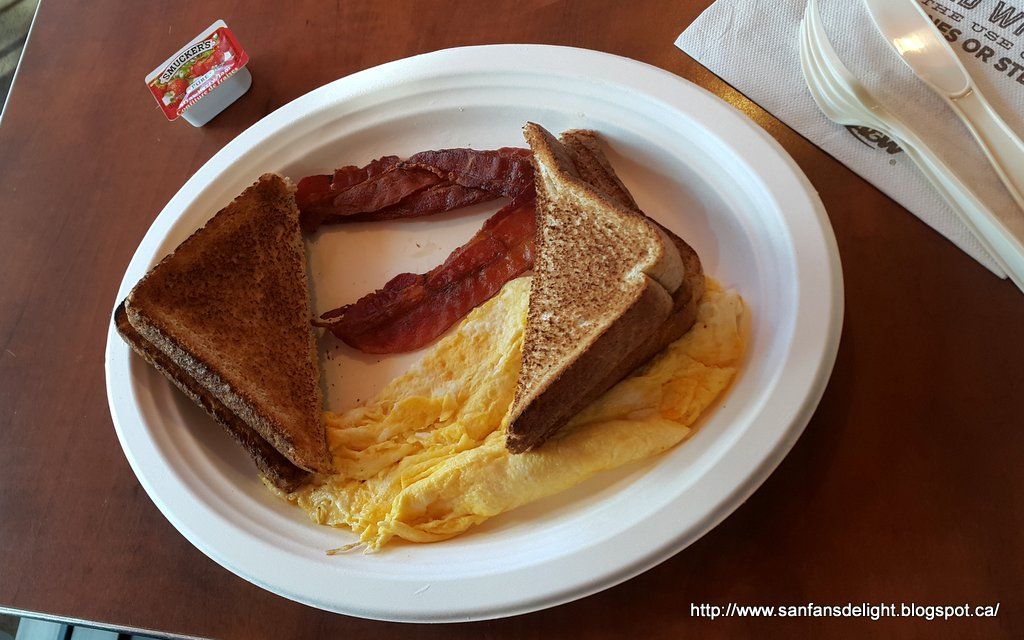 The counter staff were very friendly and helpful.  They were helpful explaining the different breakfast options available even though it was close to 11am when it was almost time for them to switch to the lunch menu.  The restaurant seemed quite new and in a well maintained condition.
A&W is going to give the other fast food breakfast joints a run for the money as they have proven capable in preparing a good quality morning meal.  We'll certainly be back (perhaps another location) to try the other breakfast options too.
SFDD gives 3 out of 4 Delights.