It's another fresh year for the popular Entertainment Coupon book which we like to pick up a couple every year.  You'll see lots of different fast food restaurants offering coupon deals in the book such as this NY Fries BOGO.  We went to the Richmond Centre location located in their food court on the 2nd floor.  I like their food court as it is spacious, lots of seats and rather clean compared to their old one that was on the ground floor.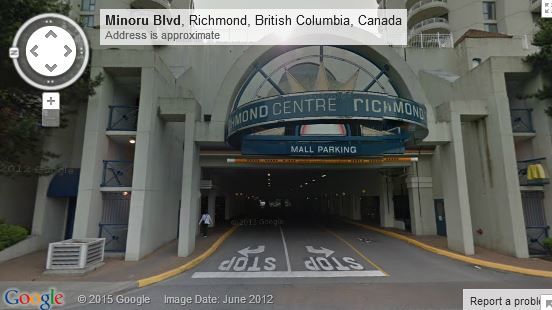 The Entertainment coupon only mentioned regular fries, but after clarifying with the counter staff, he said it can be used for their poutine so that is what we got.  We have never tried poutine before so we were rather excited to see what it was all about.  NY fries has a variety of poutine choices, even butter chicken! 
The first one we got was The Works poutine.  This has beef chilli over New York Fries, topped with sour cream, cheese sauce, fresh green onions and bacon.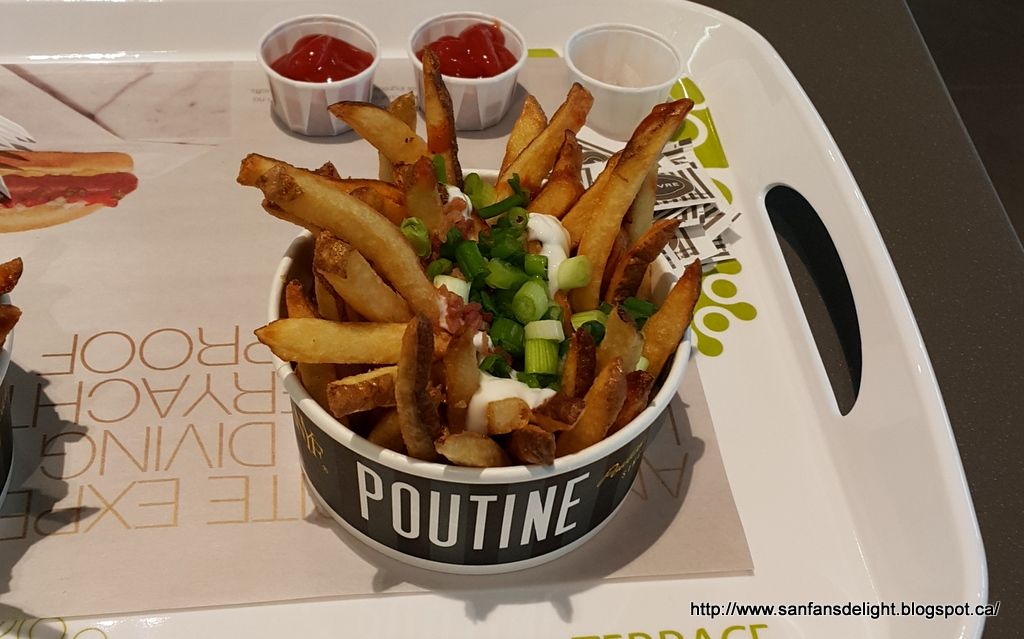 The 2nd one we got was the Veggie Works poutine.  It is similar to the above except it does not have chilli and instead of bacon bits it has fresh healthy tomatoes.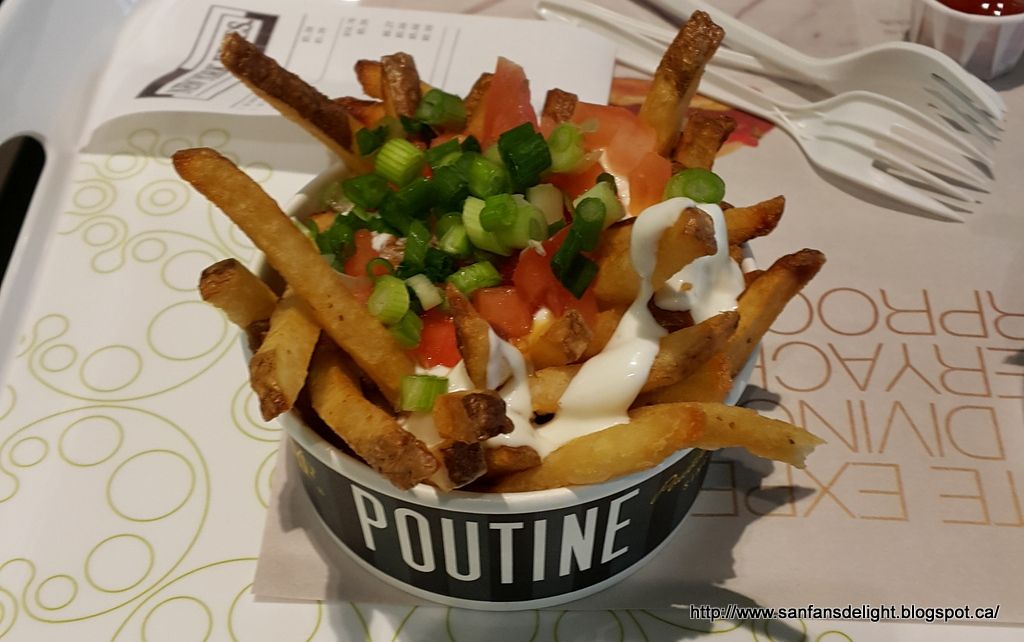 The fries were rather fresh as we can hear them making it in the back.  Before the fryer was at the front where the customer can see them making it but this location has moved it behind the scenes.  You'll notice that one key ingredient missing from the orders were the cheese curds.  Well it turns out that the curds are only available on their other 3 Poutine options so it was bad luck that the 2 we wanted had no curds.  A bit unusual as curds are supposed to be mandatory ingredient isn't it?  Also missing was gravy…
Overall, this tasted more like a fully loaded baked potato.  It was not horrible in fact it tasted OK, but the fact that it was called a poutine made it rather misleading and disappointing.  The cheese sauce they used reminded us of CheezWiz.
The staff taking the order was quick and helpful.  However, the 2 female staff who were preparing the food were horsing around and throwing bits of food at each other. They were doing this while preparing our poutine!  I thought that was a bit disturbing to see since they were not teenagers.  They were adults!  Nevertheless,  I had to keep my eye on them throughout the poutine preparation because I was concerned they may throw a piece of dirty food into our order.
This was a disappointing first time experience with poutine.  However, seeing we have multiple BOGO NY Fries coupons, we will still come back to try their other poutine options that do have curds and gravy.
SFDD gives 2.5 out of 4 Delights.