There are a couple of popular Korean restaurants in the South Burnaby Neighbourhood, just about across the street from each other.  Potter's garden is located in a strip mall that has a furniture store as well as a Korean supermarket.
We went in the middle of the week for lunch and the place was not too busy probably because of the holiday season.  We had a party of 3 and were seated promptly.  The first thing we noticed about the menu is that a lot of the dishes come in 2 sizes, medium and large.  This was great as other Korean restaurants we've been to usually serves very large portions so it was difficult to order more to share.  This time, at least we were able to get 3 lunch size dishes.
We were served 3 different appetizers below.  We got sweet flavoured potatoes, kimchi and bean sprouts.  You are allowed one refill for the appetizers.  The potatoes were very sweet so it was not popular at our table.  The kimchi and bean sprouts were standard.  We would have preferred the kimchi to be a tad more spicier.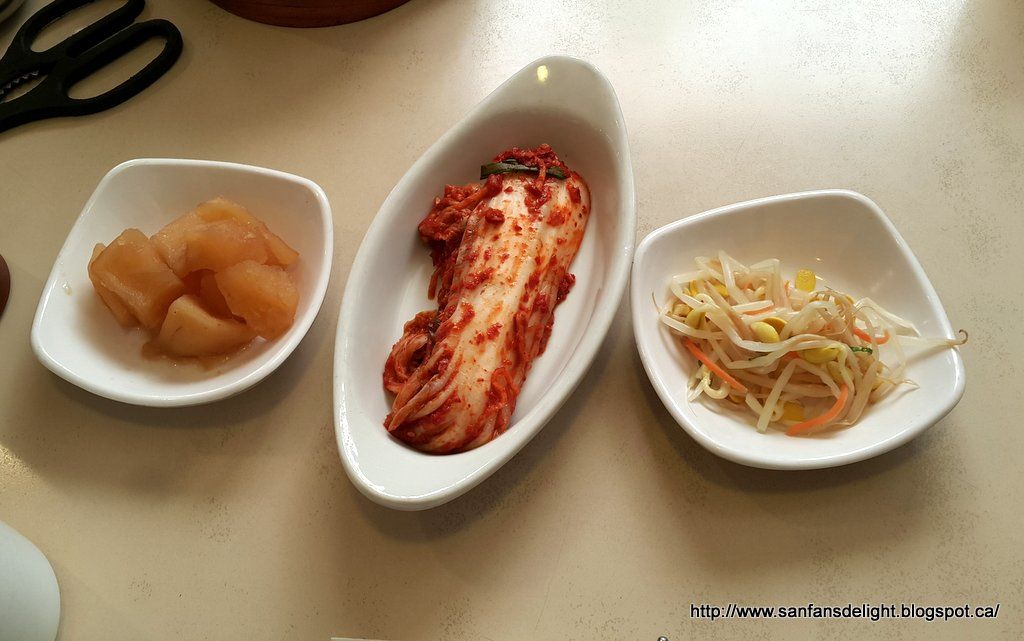 The first dish arriving was the Kimchi – Jigae.  It was still boiling hot in the bowl when it arrived. This is a soup based dish with lots of kimchi, veggies and tofu in the pot.  It came with a bowl of rice and scissors for you to cut down the veggies.  This would be a great dish for those who like spicy food.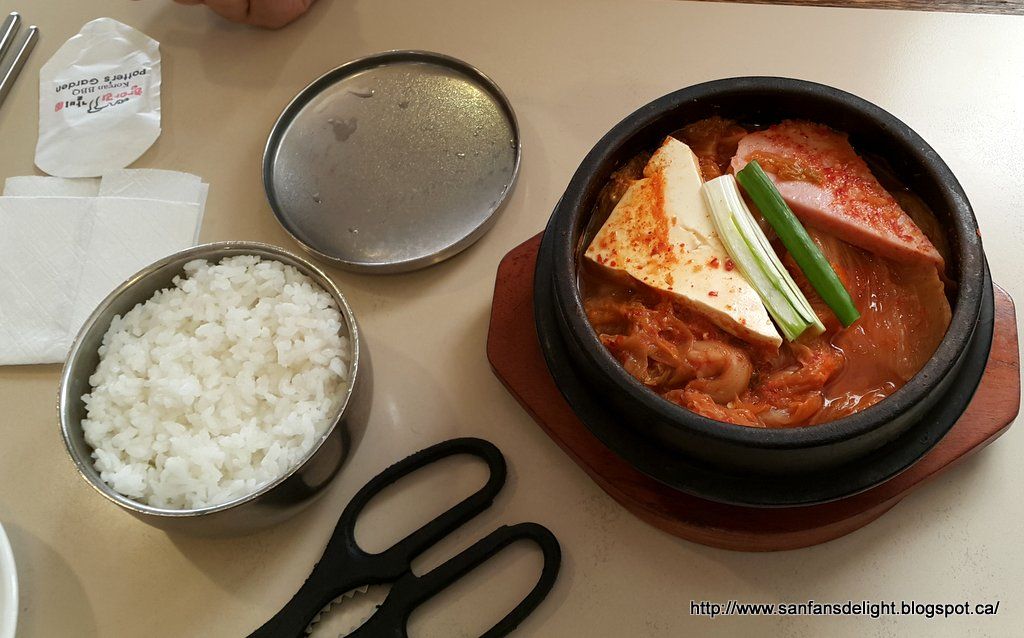 Next came the rice in stone pots.  We chose the original Bibimbab which has beef, veggies, mushrooms over rice.
The next rice dish was similar to the above except the stone pot was hot with a sunny side up egg.  The egg was quite runny because the purpose is for you to mix it into the hot rice and stone pot to let it cook a bit more. It was $3 more but had a bigger portion of beef. 
The beef was nicely tender on both.  They also came with a small bowl of soup on the side.
Service was attentive and the food was very fresh.  This place had a wide variety of items to try, and having a smaller lunch size portion available was a big advantage if you want to try more without breaking the bank.
SFDD gives 3.5 out of 4 Delights.