Kim Chau Deli is located in the Kingsway/Knight St. neighbourhood, in the heart of Little Saigon. Street parking on Kingsway can get difficult on a busy weekend or during rush hour traffic so you may need to circle around to the small streets to find a spot.
The shop is a small Vietnamese style deli/market which prepares a lot of their own food. It looks to be a wholesale operation at the back where can you see lots of employees making the food.  The front of the store is the retail operation where you can find all sorts of packaged dry goods like noodles. 
We came here today as we needed to get our fix for Viet Subs.  Viet subs are usually inexpensive when prepared at these types of shops.   French style bread is used, which is usually the first test on whether the sub is good or not.
We went late in the afternoon and the store was not very busy.  We had a look at the Sub menu which lists 5 or 6 different types ranging from $3.50 to $4.  We were hoping to get chicken or pork but we ended up with the cold cut special. 
We actually had a hard time understanding what the young gentlemen behind the counter was trying to say to us when we were placing our order. He talks rather fast like a bullet train.  It turns out he was trying to tell us that most of the subs were sold out, except for the cold cut special.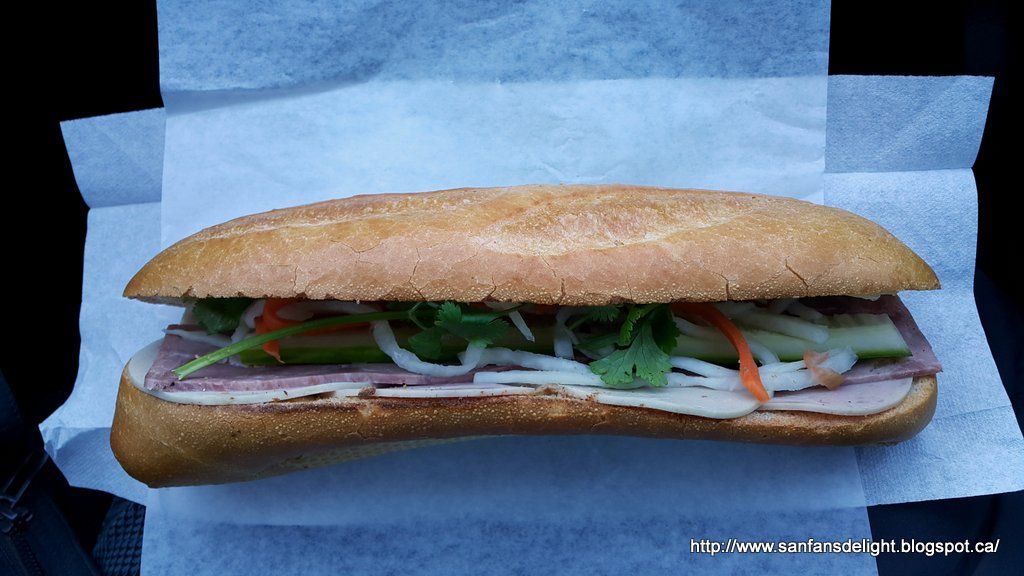 The cold cut special is filled with the Vietnamese style ham, pickled carrots and daikon, parsley, onions and cucumber.  The bread was rather fresh with a crispy crust and a soft interior.  It is especially good after getting warmed up in the toaster.  The girl making our subs was very friendly and took her time to put it all together for us.  She asked if we wanted spicy but we declined.
There is nowhere to sit inside the shop so you gotta eat it outside on the street or in your car.  Careful when eating in your car because you will surely get bread crumbs all over yourself when crunching down on the bread.
We hope to head back earlier next time so we can try out the different subs.
SFDD gives 3.25 out of 4 Delights.