Whenever bringing out our niece & nephew, they always choose White Spot because of their excitement for the Pirate Pack. We went to the one on the corner of Lougheed Highway and Gilmore.  This location has the drive-In feature where you can eat in your car like they did way back when.  I didn't see too many people doing that this afternoon.
It was a Monday afternoon during the holiday break so the restaurant was quite busy when we got there at 2:30pm.  We had to wait about 10 minutes for our table.  The first thing we noticed while walking to our table was the stuffiness and warmth of the restaurant.  It was not very confortable at all.  I was not sure if their HVAC was broken or if it was because they didn't bother putting down the blinds to block out the sun. So far, so not good.
The place must be understaffed because we had to wait a while just to order some water.  At other locations we've been to, it's usually the person taking you to the table who also immediately takes your drink orders at the same time.  Perhaps it's only the Richmond Centre location that goes this extra mile?  We were seated in a corner booth right next to some windows so it was very hot and stuffy.  We closed the blinds ourselves and it helped a bit.
We ordered a strawberry milkshake first.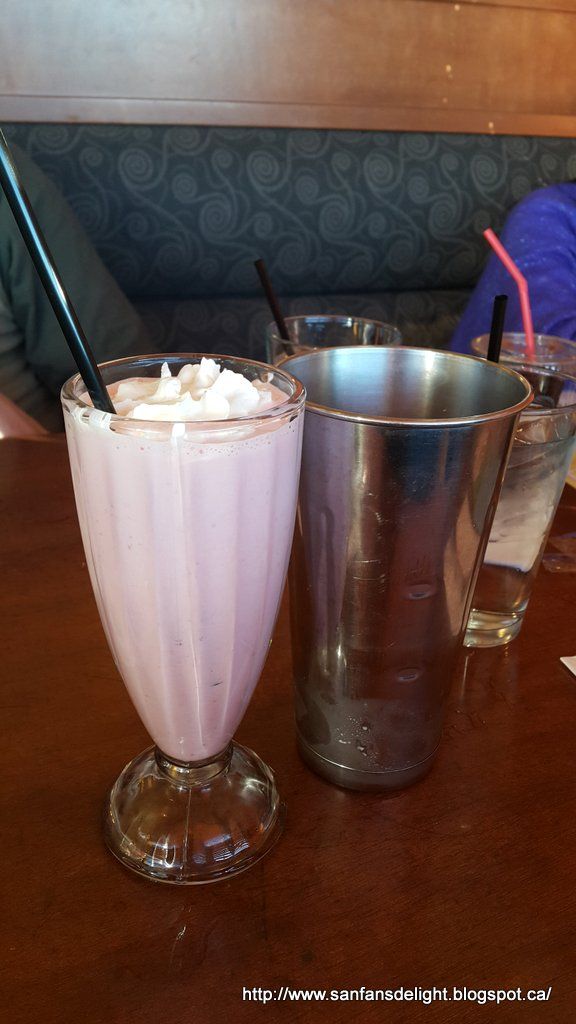 Now, again we can compare with other locations.  This was a frugal milkshake because we usually get an extra 2/3 in the the milkshake jug.  This place had the nerve to bring us the jug with just 1/4 of extra milkshake inside!  Furthermore, there were hardly any strawberry flavour. So far, so not good.
We ordered the chipotle chicken wrap with Cesar salad.  The good news is that White Spot no longer charges extra if you want to substitute the fries with another side.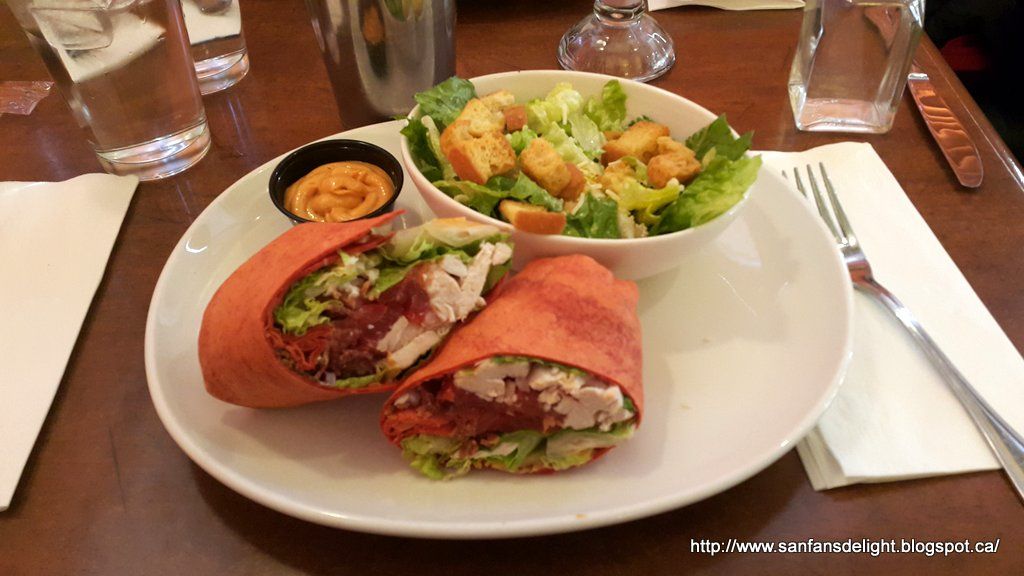 I usually ask for extra chipotle sauce on the side whenever eating this wrap at other White Spot locations.  This was a very difficult request at this location.  The server suggested I had to pay extra if I want Chipotle on the side.  I was not very happy to hear that.  She asked if I want the Triple O sauce instead as there was no charge.  We reminded the waitress that my wrap already comes with chipotle sauce so it was reasonable to ask for extra.  She gave it some thought, hesitated and then agreed to reluctantly bring me a "little bit" as if she was doing us a big favour.  The bacon inside was way to crispy. So far so not good. 
Here comes the Pirate Packs.  Kids love these because they are kept busy filling out the puzzles on the order sheet.  The kids choose what they want by circling their preferences.  The kids at our table chose the chicken nuggets, pop, fries and plum dipping sauce.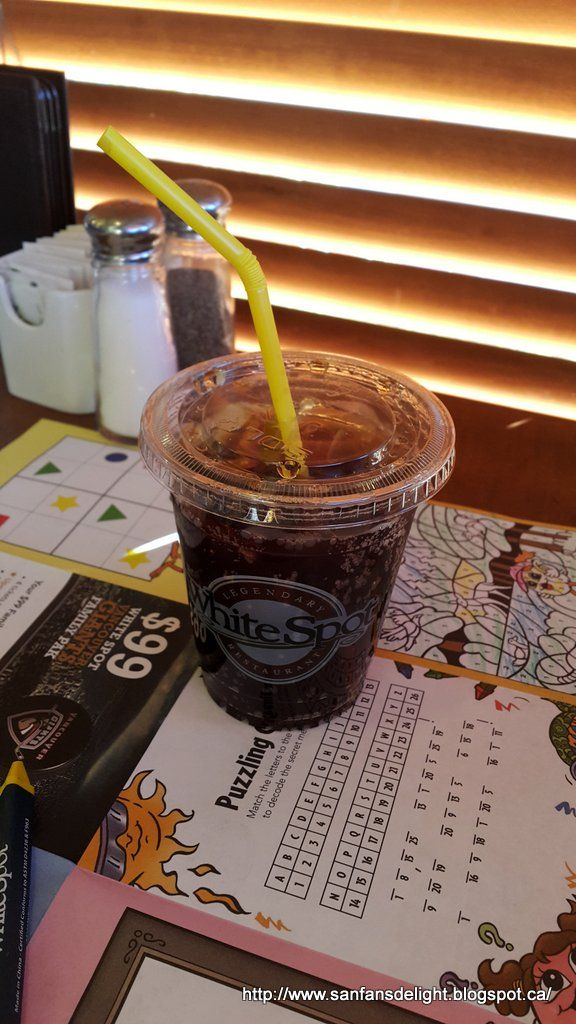 The drinks are served in a plastic take out cups to minimize the kid mishaps.
The Pirate Packs come in a cardboard pirate ship and a piece of coin chocolate.  If you haven't noticed, the plum dipping sauce is missing.  We ordered 2 of these and both did not have the plum dipping sauce so we had to wave down the waitress to get it. As mentioned, they were understaffed so it took a bit of waiting before we were able to flag her down.  So far, so not good.  Was she going to say that it cost $0.50 for the plum sauce too!!!  Gladly she admitted the error and brought the plum sauce.
Next up is the BC Chicken burger with spot salad.
The burger was consistent with just the right amount of Triple O sauce.  The bacon was not overly crispy and the chicken retained nice moisture.  The salad was fresh and their special dressing was nicely prepared.  We always wondered what kind of dressing is used for their spot salad.  It is like a green, creamy balsamic type of vinaigrette.  Just make sure it comes creamy.  At some locations, they may give you a cup of what looks to be like clear oil. When that happens, you need to remind your server to mix it a bit or ask them to scoop up from the bottom of their dressing can to avoid just scooping you oil.
At last, the ice cream for the Pirate Packs: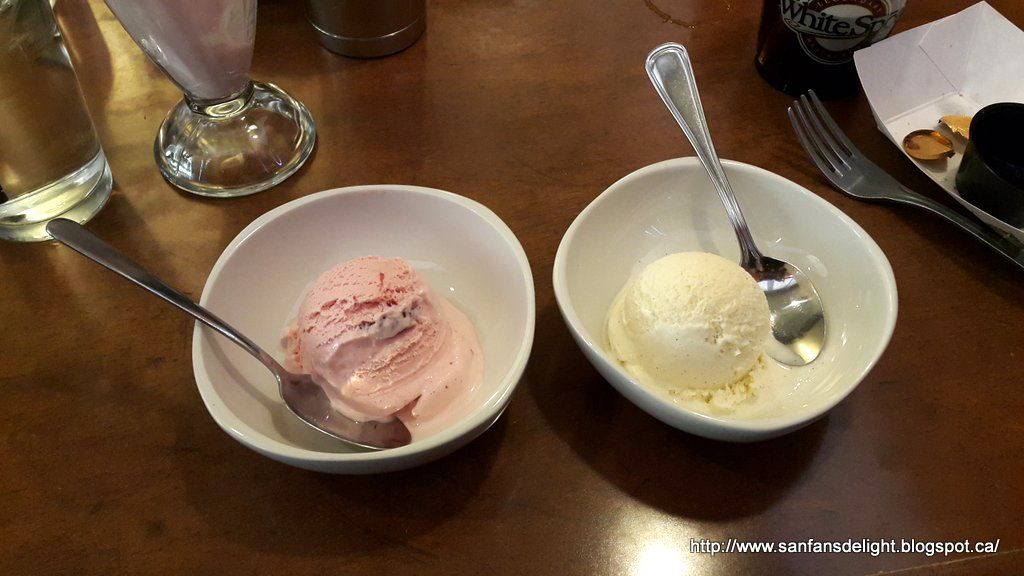 Well they got the ice cream right.
There needs to be some changes made in this location, first to cool down the temperature inside the restaurant. It was hotter than summer time!  Service was sub par with the long waits for water, overly crispy bacon, missing dipping sauce, and the threat of extra charges for chipotle sauce for my chipotle chicken wrap…
We chose this location just for convenience as it was close to the kids.  We certainly won't be coming back to this particular location due to the poor management of facilities, floor service, and kitchen food output.  We thought franchisees need to follow the same formula.  Something is missing here.
SFDD gives 1.75 out of 4 Delights.