We first saw this Japanese style cafe on a friend's facebook post which looked very interesting that we had to give it a try.  It is hidden in a tiny little strip mall in a residential neighbourhood around the SW Marine Dr./Granville neighbourhood.
This place doesn't make traditional Japanese food that we all know, like sushi, sashimi or ramen.  They serve Japanese style pasta, hamburger steaks, stew and curries.  Their menu has quite a good selection to choose from.  We arrived at about 7pm in the middle of the week it was busy, but there were tables available.  It is a cozy little place, well staffed with friendly service.
We started with a green tea latte. It was very green and deep with Matcha flavour.  We could not see them make the latte so we couldn't see if it was a powdered instant mix or made from scratch by a barista.
For appetizer, we shared the Octopus Karaage.  It had a very light and fluffy crispy batter.  It was lightly seasoned with parsley and was a good size for $7.
The Hashed Beef Stew with Hamburger Steak below is served with rice and some green salad.  The steak was not too big, maybe the size of a small fist.  The steak was a bit too soft.  It would have been better if there was some char on the outside.  The stew was rather good and had a good balance of flavour.  It was not very chunky though but maybe this is Japanese style.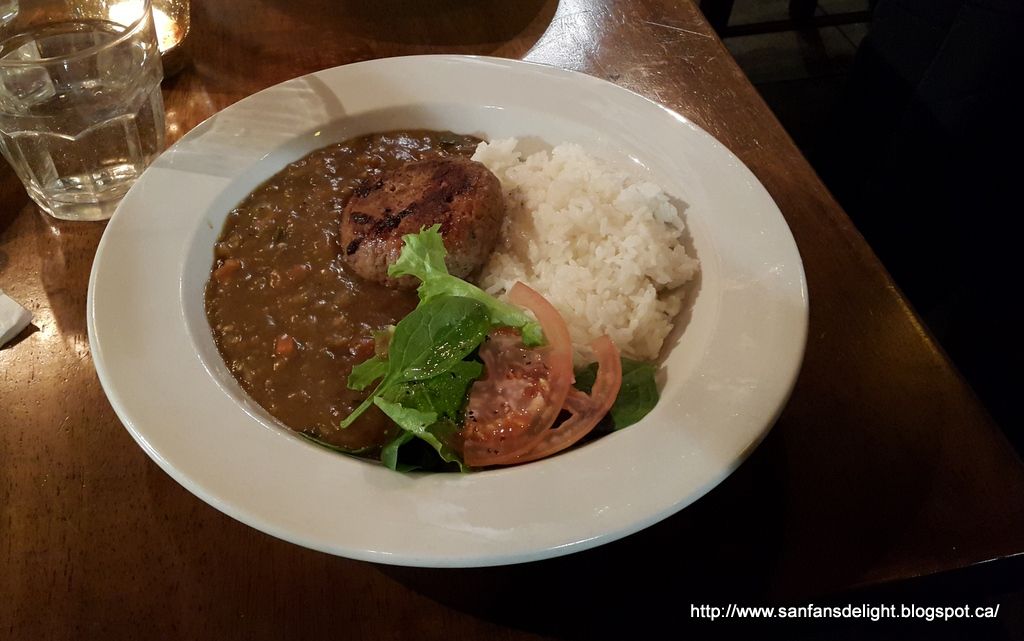 The Curry with Hamburger Steak below has the same piece of hamburger steak.  The curry was rather typical like the kind you can buy in the supermarket that comes in cubes.  The curry would have been better if it had more veggies cooked inside
The steaks didn't taste like they came off the grill.  I was a bit concerned as we saw a microwave being used continuously in the kitchen.  I was hoping they did not use it to reheat the food before serving it out.
If you have space, they have a fridge stocked with various dessert specials of the day.  Some of the desserts didn't look too attractive simply because they wrapped it up in saran wrap.  That kind of spoiled the look of the desserts.
The prices were reasonable for the type of food that you get.  It's a good place to try out but not a place we'd go back regularly.
SFDD gives 3 out of 4 Delights.