Shining Garden is Chinese restaurant located at the corner of Nanaimo and Broadway.  Don't expect to park in the tiny shared parking lot.  You are better off finding street parking on Nanaimo or on the small residential streets to avoid headaches.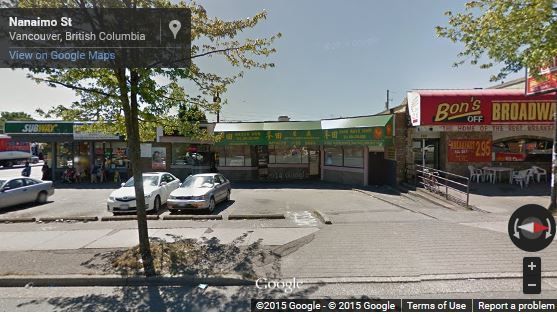 We dropped in early Friday night without a reservation.  Luckily a table was available for us but it was already filling up quickly.  We saw many tables were reserved already.  This place serves typical Chinese dishes, but what we were disappointed with was that they did not have the Vancouver style set menu where you can choose X number of dishes with soup and white rice included.  Thus we did the A la carte from their menu.
We ordered here the hot pot bowl with assorted meats and tofu.  It came sizzling hot with quite a good variety of meats nicely seasoned and not too saucy.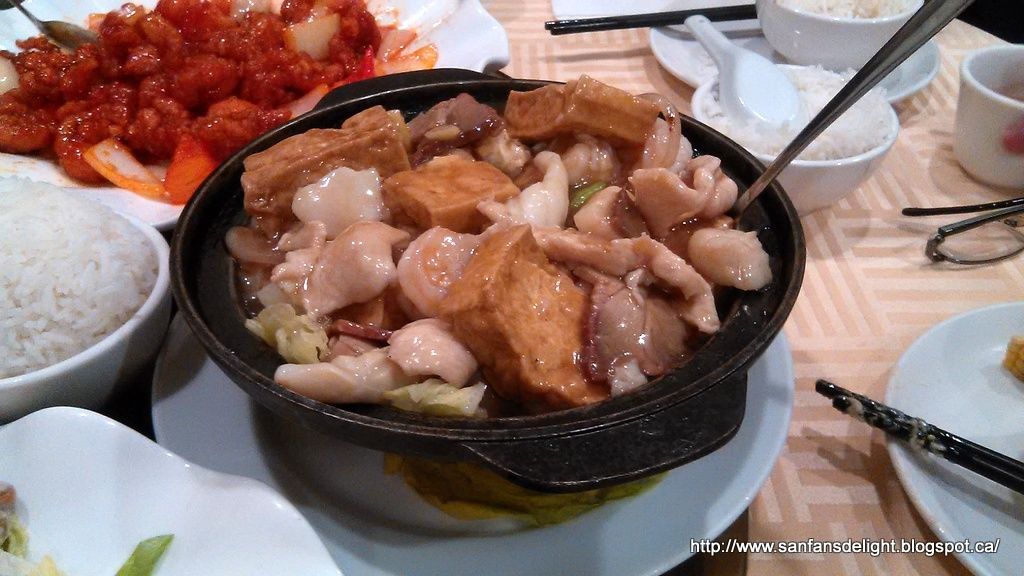 We were craving for noodles so we got the chicken fried rice noodles.  It was a nice full sized plate.  The rice noodles were quite fresh and soft.  The chicken seemed to be unnaturally tender though.
Next is the tofu broccoli.  Flavour was good but the sauce was a bit too thick for our liking.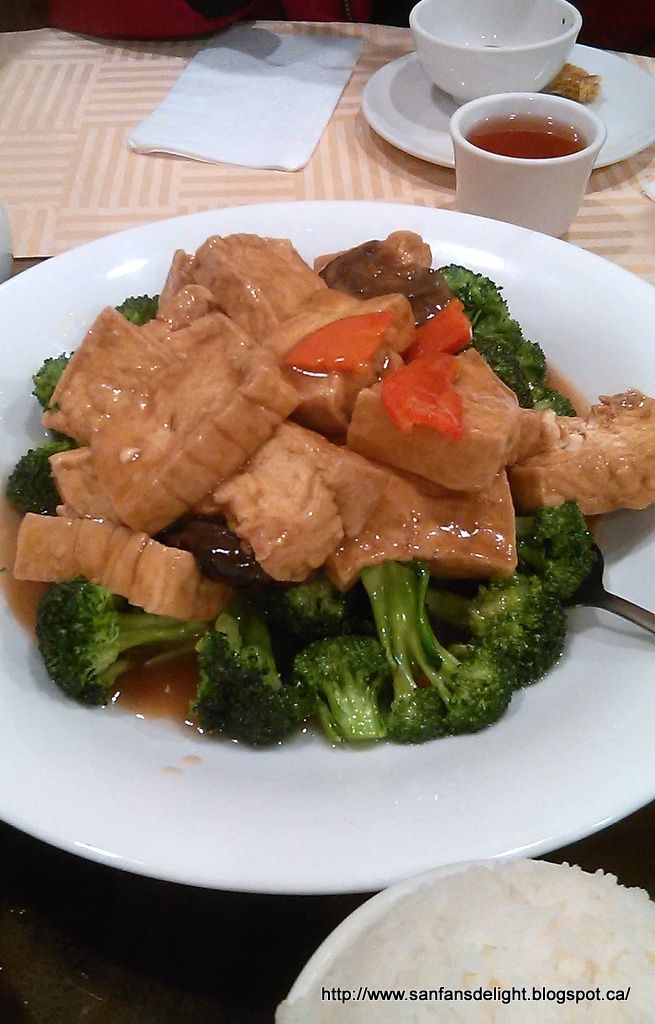 This is the black pepper chicken with mushroom.  It mushrooms were whole, it would have been better if they cut them.  It was served with white meat chicken.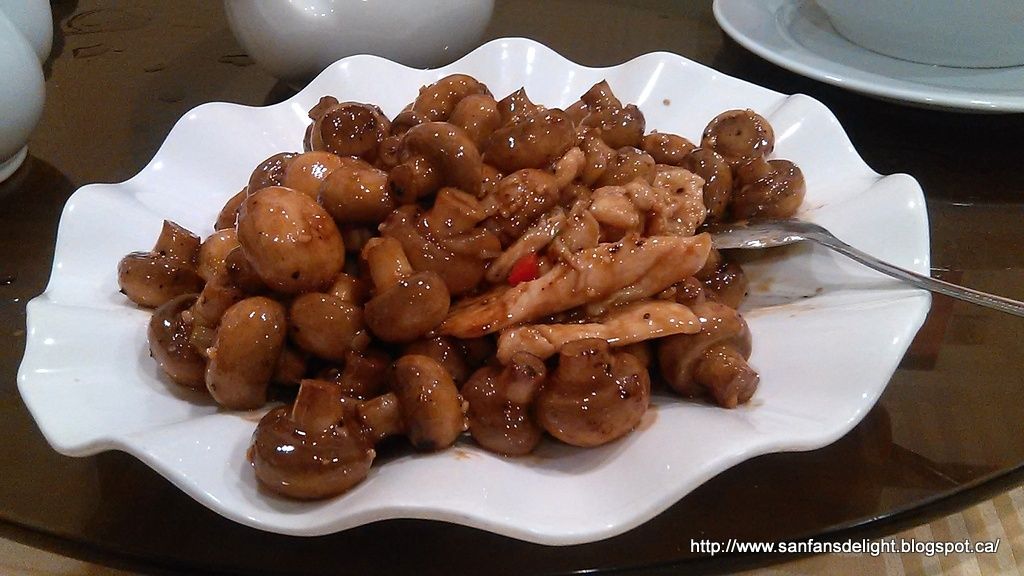 We wanted to try this salad sauce pork chop.  We were expecting it to be tangy from the sauce but the sauce was a bit on the salty side unfortunately which spoiled the flavour of the mayo.  The pork chops were quite lean so it was rather chewy.  We've had better salad pork chops at other places.
Finally instead of getting sweet and sour pork, we tried sweet and sour chicken instead.  Flavour-wise it was excellent with the right balance of sweet and sourness.  The chicken was fried evenly without a too thick of a batter so it was certainly popular with the kids at our table.
Lastly they included dessert for each of us at the table.  Tonight was black glutinous rice dessert.  It was a bit bland but some people at our table like the dessert not too overly sweet.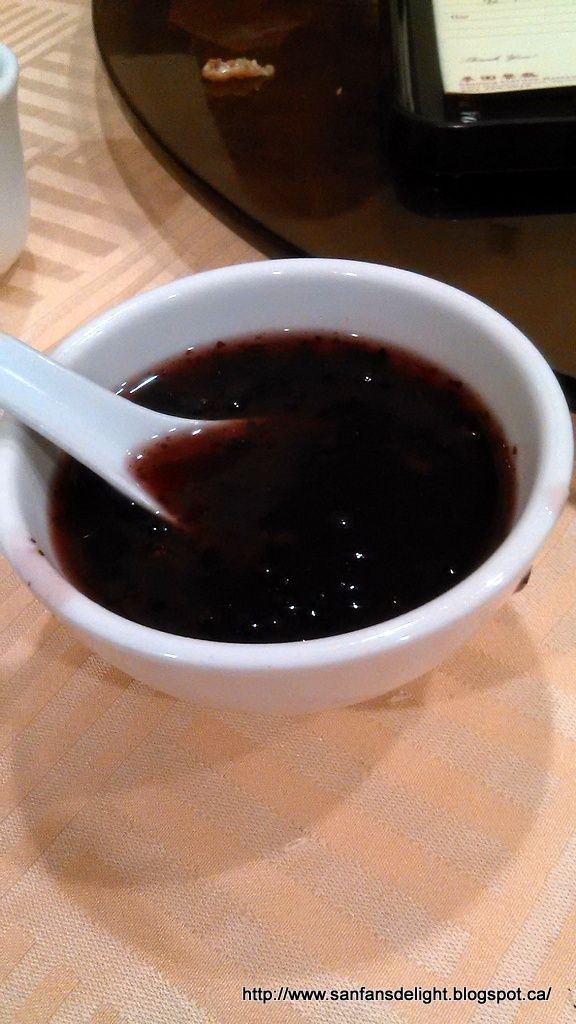 Overall prices were fair for what you get.  They are a bit understaffed so you may have to ask a few times before getting your request fulfilled.  The food did come out timely though. 
SFDD gives 3 out of 4 Delights.