Bob's sub is a little hidden gem along No 3 Road.  It's in the Brighouse Square strip mall across from Richmond Centre so it is easily assessable from the Canada Line.
This is the place to go if you are looking for a fully packed inexpensive submarine.  It's operated by a friendly Korean couple.  Other stuff on the menu include burgers and fried chicken too.  It's not a fancy place, it's more like an un-renovated cafeteria with dim lighting.  You order and pay at the counter and then pick up your food when the food is ready so it's somewhat of a self service joint.
We got there at about 6pm and the place was not very busy.  We ordered and shared their famous foot long Super Sub.  You can get 6 inch too which is exactly half the price so there is no discount for ordering the larger size on all their subs.
The super sub includes steak, capicollo, cooked onions, mushrooms, cheese lettuce and tomatoes.   "Super" means you get double the amount of fillings compared to the regular sized subs.  They knew we were sharing the foot long so they were nice enough to serve it on 2 plates. They truly delivered as you can see the sub is packed rather high.
It was a bit out of balance as you can see the capicollo is slipping out on the left side on my half and there wasn't that much in the other half below.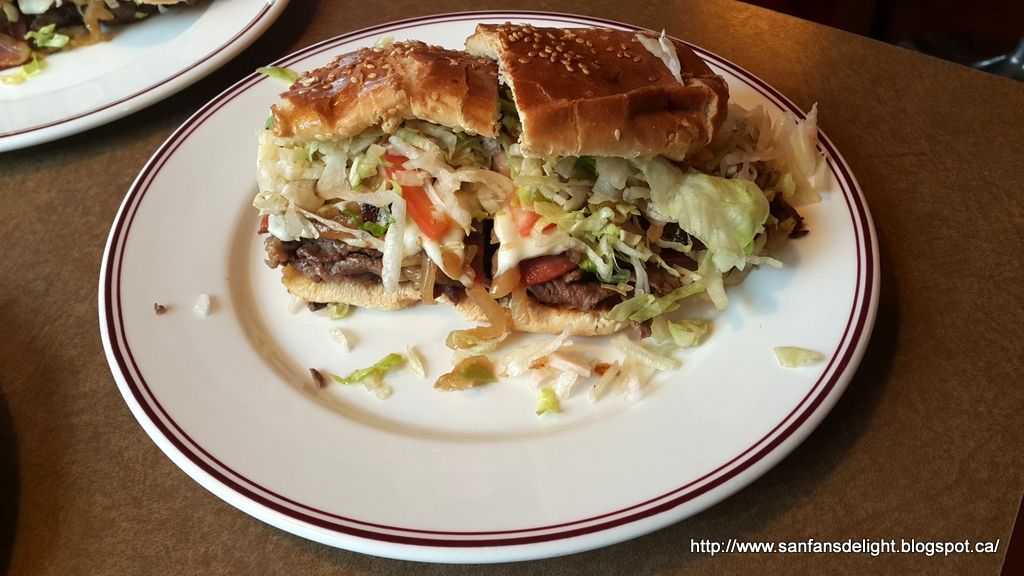 What we liked the most is that the bread was toasted hot on the grill so there was a bit of crunch on every bite.  The beef didn't have much seasoning so the taste came most from the other meats.  The lettuce had a nice crunch while the tomatoes were fresh. It was not too messy with sauces as we didn't notice a lot of dripping out of the sub while we were conquering with each bite.
It was around $12 although so it is not really considered 'inexpensive' when compared to Subway, but it definitely has a lot more meat for sure. 
We also added the onion rings.  This can be skipped as it tastes like the stuff from the supermarket freezer isle.  It was overcooked and too crispy with a very thin strip of onion inside the batter.
Other customers who walked in while we were there all ordered the Super Sub, so this was definitely the popular choice for the regulars.
Overall, we'd recommend to stick with their sub selection. This is a place to go if you want to feel full after being hungry from a  long workout at the gym.
SFDD gives 3 out of 4 Delights.