Pepper Lunch opened their first Canadian location in Richmond just about a month ago.  It originated in Japan but also has locations in Taiwan and Hong Kong.  It's located on the corner of Westminster Highway and No3 Road, the same complex where London Drugs is located.  Pepper Lunch specializes in food served on a sizzling hot cast iron plate.
It's kind of like Nando's where you order at the counter and pay first.  Then they assign a table for you and someone will bring you your food later when ready.
We got the basic Beef Pepper with Rice.  It came sizzling hot with a neat paper wrapped around the plate to protect you from the sizzling juice.  Once it arrives, you have to start mixing the rice and meat together so it cooks because the meat is served raw.
The beef was quite tender, it is probably sliced from sirloin with light seasoning.
We also tried the Salmon Pepper Rice.  The salmon was also raw when it arrived so it had to be mixed together to be sure it's cooked throughout.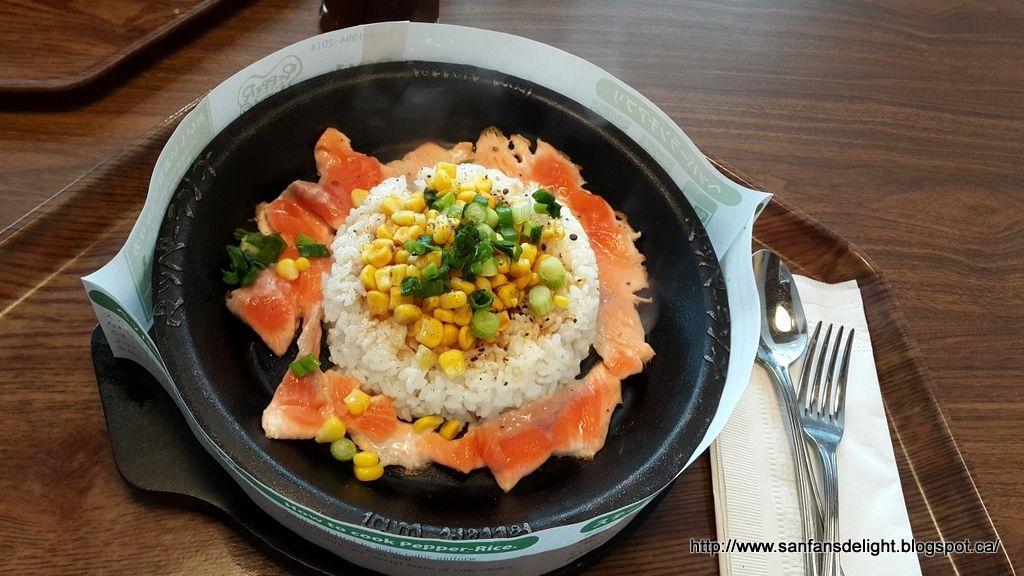 Pepper Lunch has a open kitchen concept so you an see the cook preparing the food if you sit close enough.  The service was very friendly as the servers energetically greeted customers when they arrive and departed.  The food also arrived rather fast, which is expected since they don't have to cook the main part of the food. 
Price is also very affordable as they got a good selection for $10 and change.  You can also up it to a larger size for a few dollars more.
SFDD gives 3.75 out of 4 Delights.