While running some errands at Richmond Centre mall with empty stomachs, we got hungry and needed to get a quick breakfast. 
We had one of those A&W weekly coupons, so we went up to the food court to grab a couple of breakfasts.  The coupon provided a free drink and hash brown so it was a couple of bucks saved.   The food court was relatively quiet as it was before 11am.
There was not a lot of people in line at A&W, but the clerks seemed quite overwhelmed and frazzled with the current orders and bumping into each other at the counter while grabbing orders and drinks.  We had to wait a few minutes before the clerks had time to take our orders.
We both got bacon and eggs classic breakfasts.  This one has over-hard eggs.  We got hot chocolate for the drink.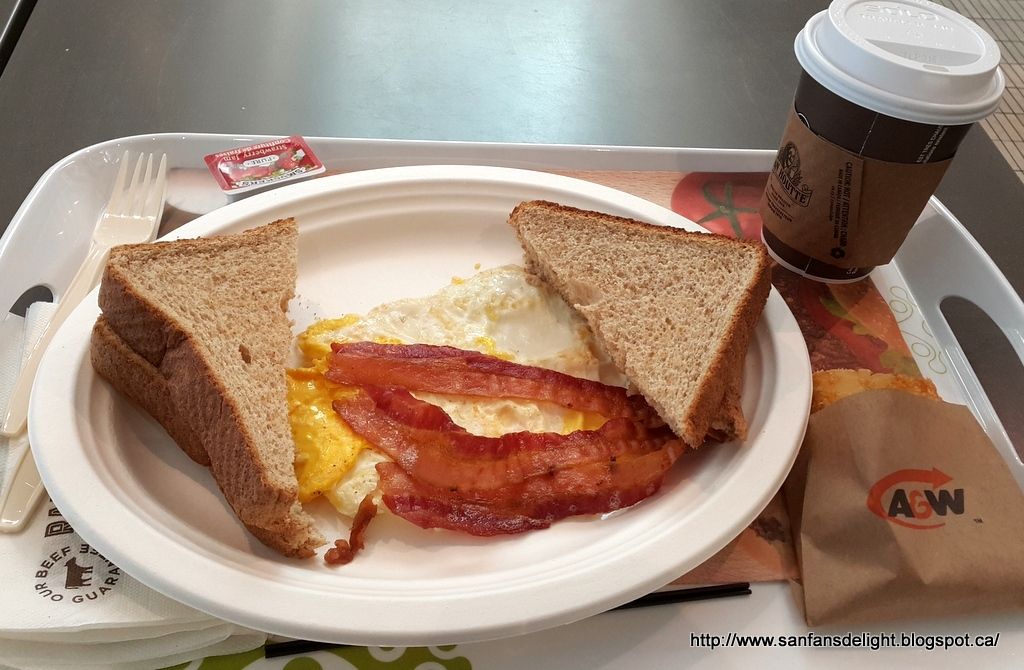 The eggs and bacon were great.  A&W is still claiming to source from hormone free meats and eggs which is nice bonus.  The toast however was not toasted enough.  The hot chocolate was too watery so we exchanged it for a tea.  The staff did not give us any trouble when exchanging.
Our second breakfast had over easy eggs.  It was made to order.  The toast was a bit better, but could have used another 30 seconds in the toaster.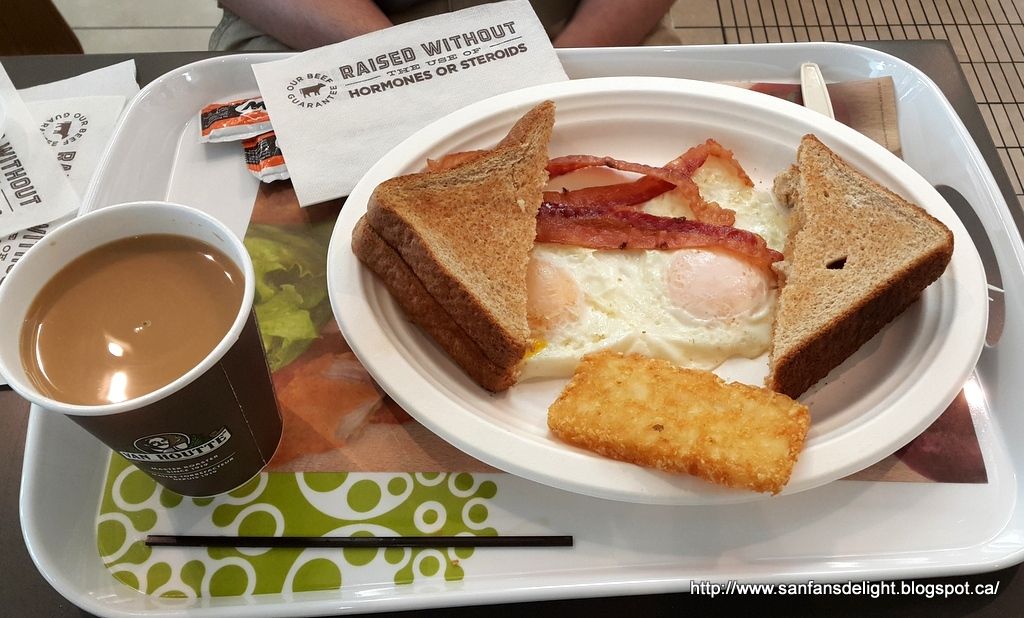 Coffee was A&W's Van Houtte Brew it was quite flavourful.  If comparing fast food coffee, I'd definitely prefer A&W's coffee over TH or MacD's coffee.  The hash brown was fresh and did not seem as oily as the ones you get at MacD's or TH's breakfasts.
In summary, most of the items in our order was fine.  Toast needs to be toasted longer for it to look like toast.  The staff can use some training to keep things calm and in order on their side of the counter.  I can imagine things may get messy during a lunch time rush. 
SFDD Gives 2.5 out of 4 Delights