We went by the Destination Hyundai on Kingsway to look at cars and was delighted to be treated to a complimentary food truck lunch by the dealership. The food truck was parked right in the dealership lot and it got a lot of attention from the wild colours painted on the truck like artful graffiti.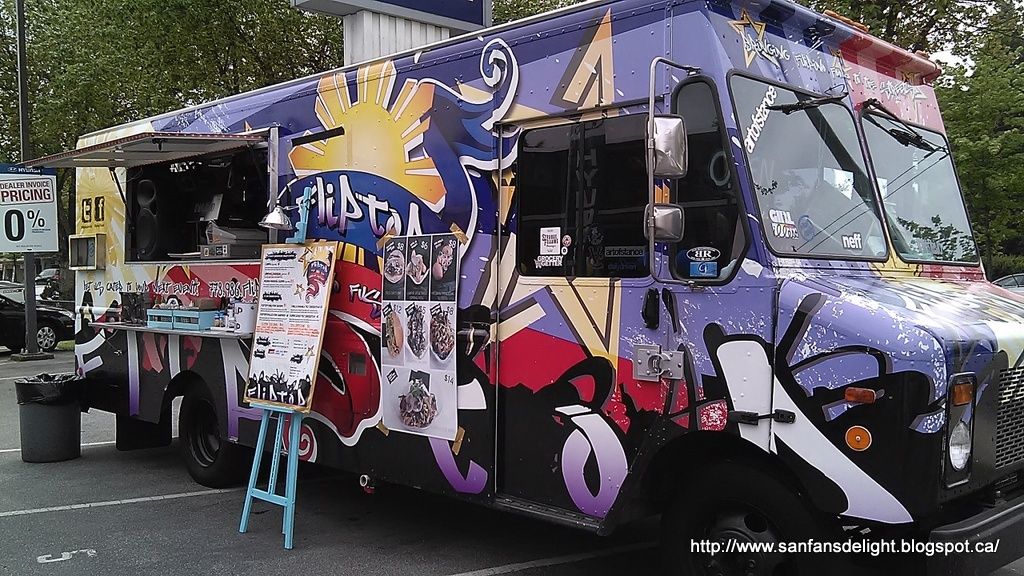 We were allowed to choose any one item on the menu with a drink. I chose the pulled pork sandwich. I've never had Filipino food before so this is new to me. I waited around 5 minutes for the sandwich and it was already starting to get busy as it was approaching lunch time.
When I picked up, I was quite surprised that it was stacked so high! The pulled pork was on the bottom and was very tender made with a delicious sauce. The stuff stacked above it was some crispy veggies. I was unsure what it was but it was lightly battered like onion rings. It had some garlic mayo sauce and overall it had a tangy sweet/sour taste which mixed well with the pork.
The food truck guy said to close the Styrofoam top over the sandwich and squish it down before eating. This was true otherwise you won't be able to bite into this monstrous size sandwich.
It was definitely a full sized sandwich enough to fill me up.
I'd probably prefer for the pulled pork to be more hot instead of warm. Because it was so big, it started to get messy halfway as the filling started sliding off so you gotta be extra careful if you are trying it yourself.
If we get to pass by this food truck again, I'd like to try out the other offers on the menu.
SFDD gives 3.5 out of 4 Delights.