We headed out to the industrial neighbourhood of South Burnaby to try out Fraser Park after reading other bloggers talking about their famous German Breakfast.  It is located on the south side of Marine Way on Byrne Road  around the neighbourhood of the factories and auto mechanic's garages.
We got there at about 11:30am on Saturday morning and the restaurant was packed.  It was our first time their so we just stood at the entrance waiting to be seated.  After a couple of minutes one of the servers told us it was self service.  It turns out that you order and pay at the counter first, then sit any where you wish.
You get a number to take back with you so the server knows where to bring the food when it is ready.
From seeing the pictures on the blogs, we knew the German breakfast was going to be a big serving.  So we shared one German breakfast and also ordered a regular meatless breakfast.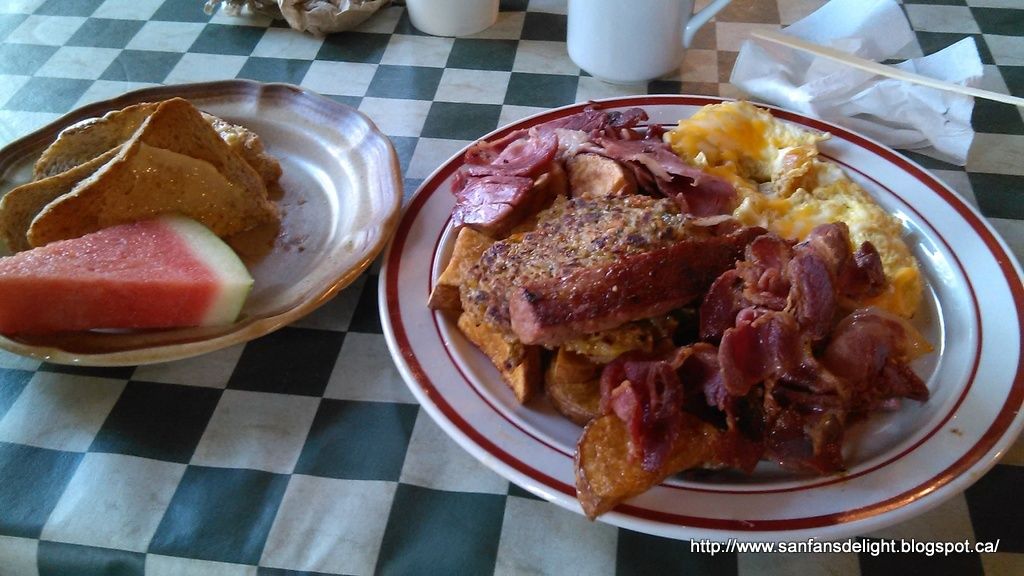 The German breakfast above comes with toast, watermelon, German style bacon, sausage, ham, pan fried potatoes, potato cake, and scrambled eggs.  It was huge!  The meats are very unique.  We never had it before but it was really good.  We would say the bacon looks like Canadian style bacon.  The scrambled eggs had cheese and some sweet yellow peppers inside.  The potato cake was also very good.  It was mashed together with some other veggie ingredients inside.  You'd have to have a big appetite to finish this yourself.
Here is the meatless breakfast.  It has 2 eggs made to order (over hard), pan fried potatoes, potato cake, toast and a wedge of watermelon.  If you want meat, you just have to add a couple of bucks.  But this was a good enough size since we shared the meats from the German breakfast.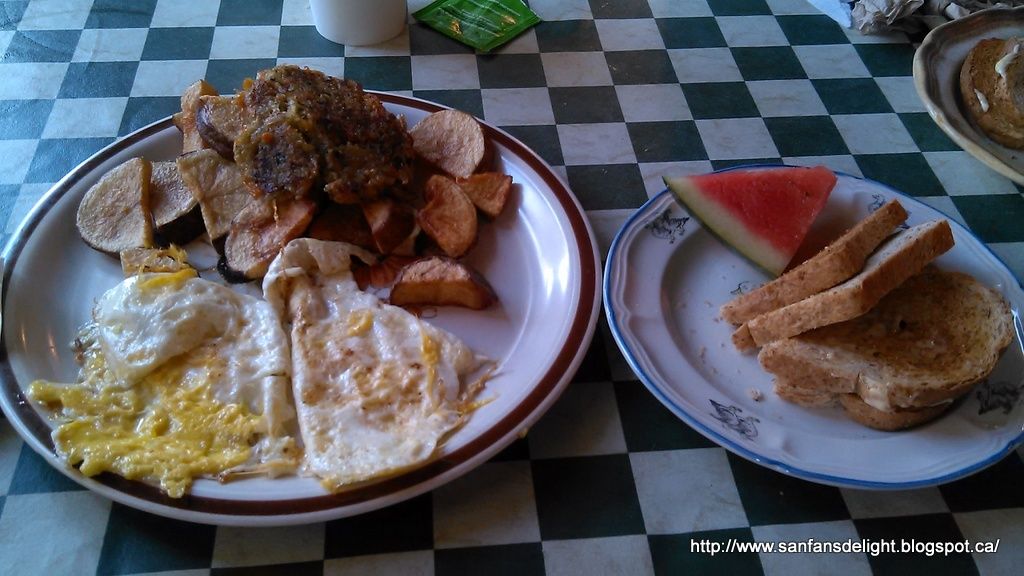 After the food came, one of the servers offered us home made hot sauce.  It was a nice addition for the potatoes.  It was not too spicy.  A bit on the sweet side too.  I would say it is very similar to the XO sauce you get at some Chinese restaurants.
Prices were very good.  The German Breakfast was less than $10 while the meatless of course was even less.  We also got bottomless coffee.  It is also self serve and they had 2 flavours to choose from.
Fraser Park isn't a fancy place to hang out, it's a straight forward greasy spoon for you to have a quick and cheap meal but made special with some German style ingredients.  It is a bit out of the way for us, but I think Fraser Park gets a lot of business from the local factories and garages in the neighbourhood.
Parking is plenty in the lot and also on the street.  The food was a bit slow though but it was busy so we didn't mind the wait seeing that it was a weekend for us and we didn't have to rush back to work anyway.
SFDD gives 3.75 out of 4 Delights.