You can find Olive Garden all over the USA, plenty in Washington State especially around the popular shopping areas that Canadians like to hang out during the weekends.  Now, it's not the place to go to for authentic Italian food if that is what you are hoping for. It's would be a place to go to for a somewhat value priced meal.
We've been to several locations and they must be doing something right because it is always busy with customers.  They are quite efficient though as wait time was always less than 15 minutes.  The restaurants are quite big with different sections, even a bar area.
Olive Garden is known for their unlimited breadsticks, and a choice of bottomless soup or salad with your meal.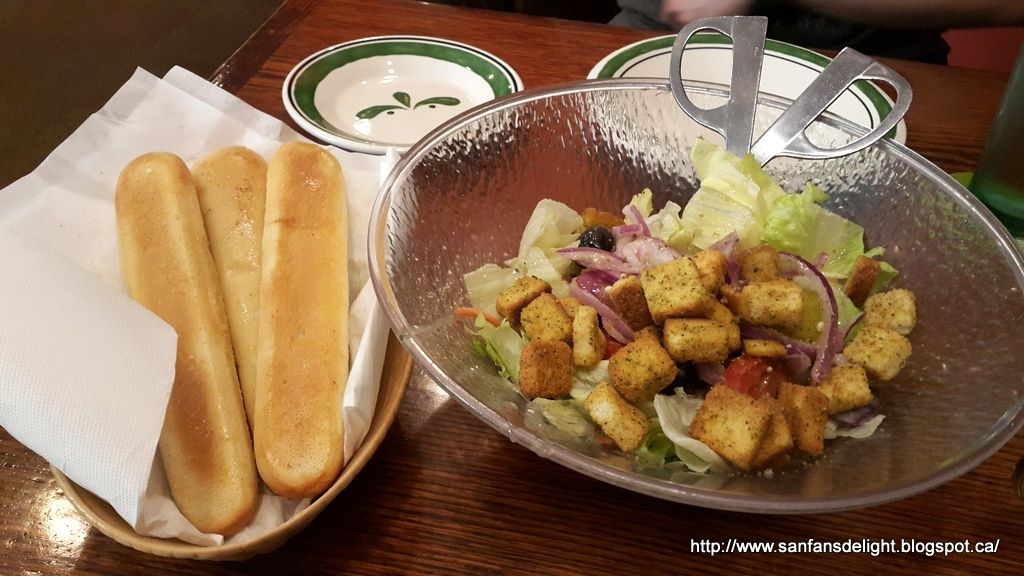 The bread is very soft and fresh out of the oven with some butter or olive oil glazed to give it some taste.  The salad is also very fresh with lots of croutons.  In fact this one had too much.  We were unsure of the salad dressing, it was very tangy perhaps a house Italian dressing.  There was too much dressing tossed with the salad so it overwhelmed the greens.  Next time we would ask for the dressing to be on the side.
We were undecided so thought it would be good to try the build your own plate where you can choose 3 items.  We chose the Eggplant parmesan, lasagne and spaghetti with meat sauce.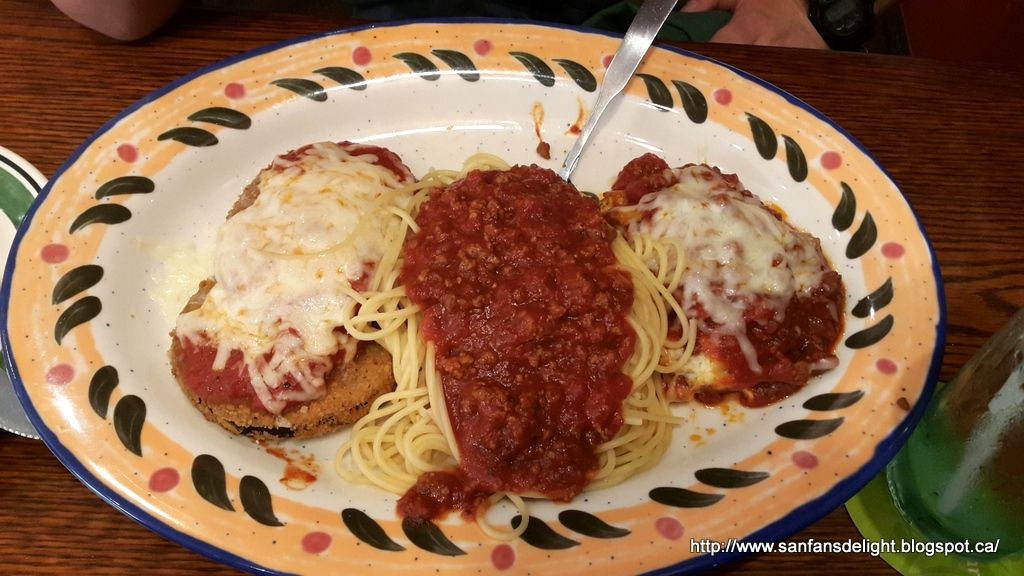 The eggplant was deep fried and lightly breaded. It was quite good with a nice crisp to it.  It was nicely balanced with the sauce and melted cheese on top.  The meat sauce spaghetti was quite meaty and thick so it was good in our books.  We couldn't taste any red wine in it though.  I specifically asked for 'al Dante' pasta because one time we got soggy pasta.  This time it was done a bit better, but still not as al dante as we'd like.  The lasagne was about a 1/3 serving and was also quite meaty with lots of ricotta cheese inside.  Overall this was not too bad for the price as the portion was big.
For our second dish, we got Cucina Mia.  We opted for the rigatoni with Garlic white wine sauce.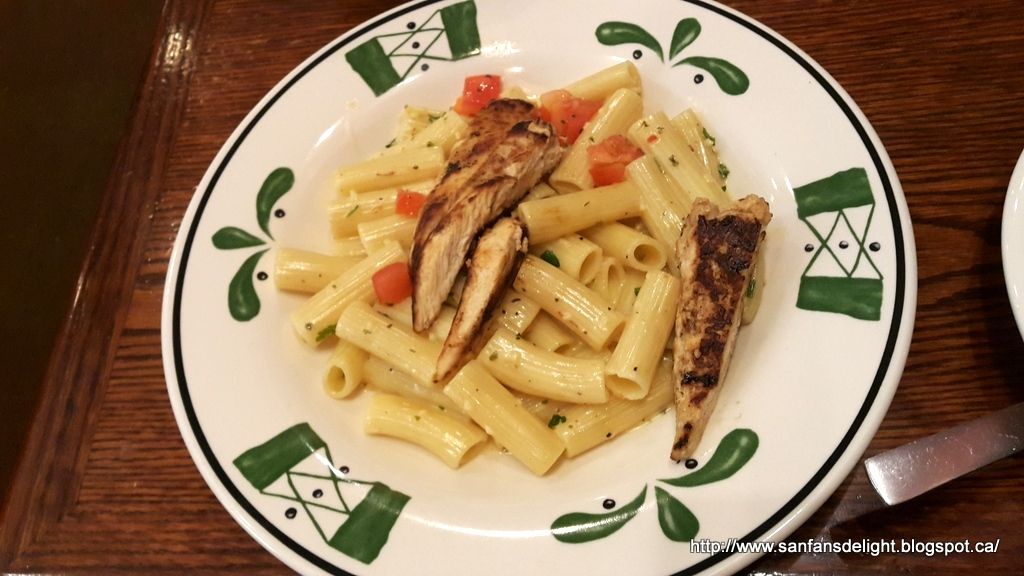 We added a piece of grilled chicken breast as well.  The pasta was done pretty good and it was not drowning in sauce.  The sauce was definitely buzzing with white wine too.  It was a good sized portion.
Service wise, our server was friendly and we did not have to wait too long for our food.  Olive Garden's parking lots are usually quite big so you should have any trouble finding spots.  Extra points are given for their extra fresh breadsticks.  One suggestion if you visit is to ask them to keep the salad dressing aside so the greens are not drowning.
SFDD Gives 3 out of 5 Delights.