We found some generous Panago coupons in our mailbox around mid August where you can choose any 2 medium pizzas for $20.  That seemed to be a great deal considering a medium pizza at Panago ranges from $14-$16.  Panago seldom has deals like this but they are faced with tight competition from Pizza Hut offering the $10 medium deals and Dominos who regularly has specials that change all the time.
We ordered to pick up from the Steveston location which is at the corner of Steveston and #2 Road.
As promised, the pizzas were ready in 15 minutes.  We got there just on time and couldn't wait to devour into the hot pizzas.  Ok, I know it looks like we ordered a lot of pizzas below, but it was actually from two different times. We'll start with our first order.
On the left is the Chipotle Chicken pizza.  It does not use tomato sauce.  Instead it uses a creamy chipotle sauce so it gives a nice spicy kick to it.  It has grilled chicken breast, corn, red peppers as toppings.  It is a nice change from the normal pizza.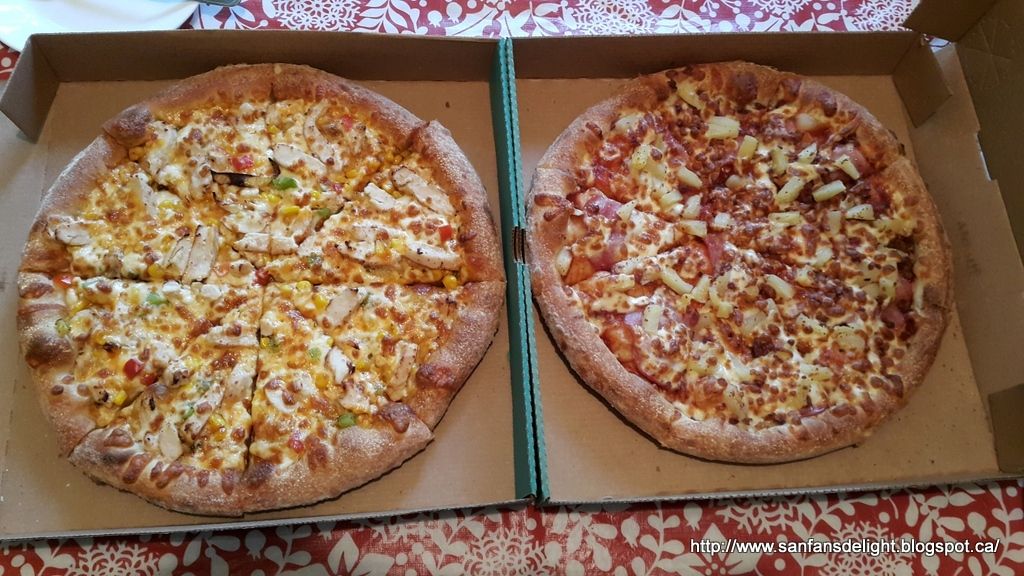 On the right is a tropical Hawaiian pizza.  It has the typical Canadian Ham and lots of pineapple.  What made this one tropical was that the sauce was sweeter than normal.  Combined with the sweet pineapple, this made the pizza rather sweet.  It was not bad though, just sweeter than the norm.
The following week we tried some other flavours.  First is the pesto chicken:
This was also different because it has a creamy pesto sauce instead of tomato sauce.  The sauce was rather cheesy creamy and was very strong.  So it's not the pizza to get if you don't have a taste for smelly cheeses, kind of like parmesan like.  It had lots of chicken though and a nice layer of mozzarella cheese.
For the second pizza we went with the Italia Classic.  This one had quite a bit of toppings including pepperoni, Canadian ham, red onions, sautéed mushrooms, green olives, green peppers.  The mushrooms were superb, maybe because it is sautéed and not the canned type.  It's also our first time trying green olives on pizza instead of black olives.
Overall the Italia Classic was our vote for the best due to the traditional sauce used as well as the number of toppings used.
The Steveston location seems to be generous on toppings.  They also have a big parking lot easy to navigate around as opposed to the awkward one shared at Westminster and Minoru.
What Panago does really well is the crust.  We chose traditional hand tossed for all the pizzas and they were all consistently soft and fluffy.  We certainly prefer to go with this location if ordering in the future.
SFDD gives 4 out of 5 Delights.