After hearing some good things about Kongee Dinesty (not a typo), we decided to try it out Sunday morning.  It is located at Garden City just across from the park and ride lot.  We got there at about 10:50 am and we kind of knew about a special set menu which we were hoping to order from.
There were plenty of free tables yet a few parties were waiting at the door when we got there.  We thought, OK maybe they don't have enough servers to serve those tables so that is why they are making us wait, fine, no problem right?  See final thoughts at the bottom.
So the manager looks at his watch and then starts to seat the waiting parties, including us.  This was at about 10:59 am according to my Casio.
This is the menu we got, it looked pretty straight forward where you tick off what you want in your congee. Seems fine, it is $9 though.  So we are thinking, it must come with a side dish like rice rolls or mini fried noodles or doughnut right? Not.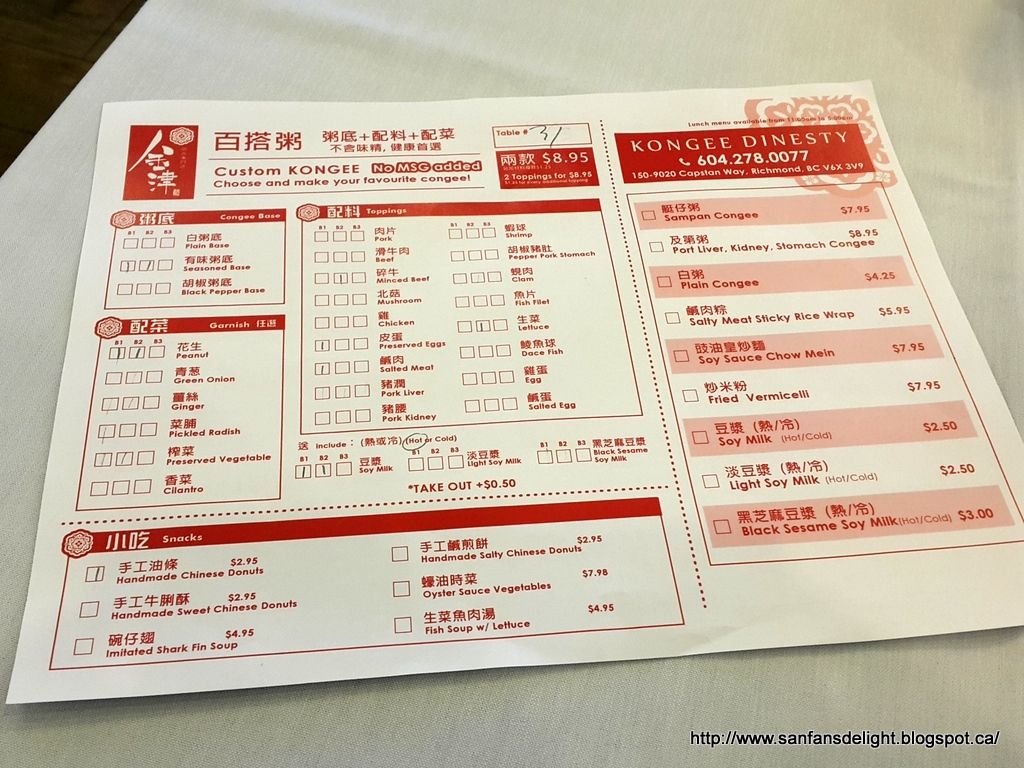 You choose between 3 flavours of congee, 2 toppings and a garnish + a soy drink.
You do get a choice of soy milk though.  You can choose hot/cold, unsweetened, sweetened, or black sesame.  We went with regular sweetened, hot.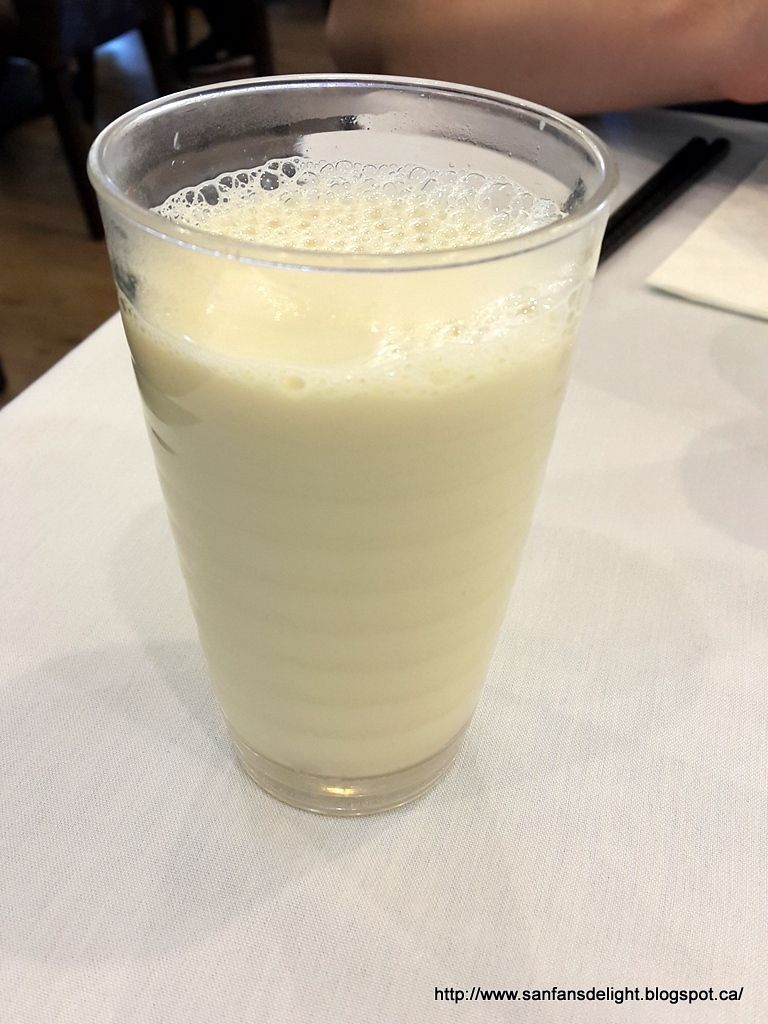 The soy milk was alright as it was not overly sweet.  It does not taste home made though, they probably just buy the same jugs you can find at T&T.
We ordered 2 congees and shared one order of Chinese doughnut which is a must have if you are eating congee.  The doughnuts were really good though.  It has been a long time since we had doughnuts this good.  It was crispy on the outside and very very fluffy on the inside.  It was big enough for both of us to share.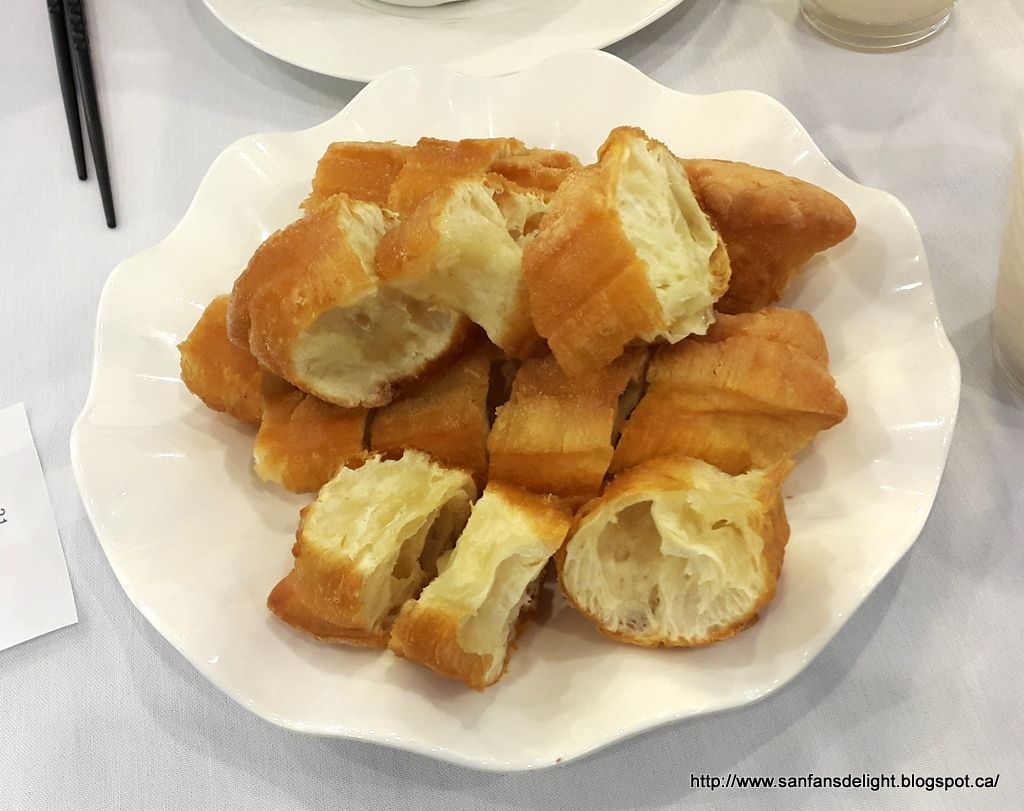 The first congee was regular broth with minced beef, lettuce and peanuts.  The congee was boiling hot when it arrived and tasted fair and had an adequate amount of beef.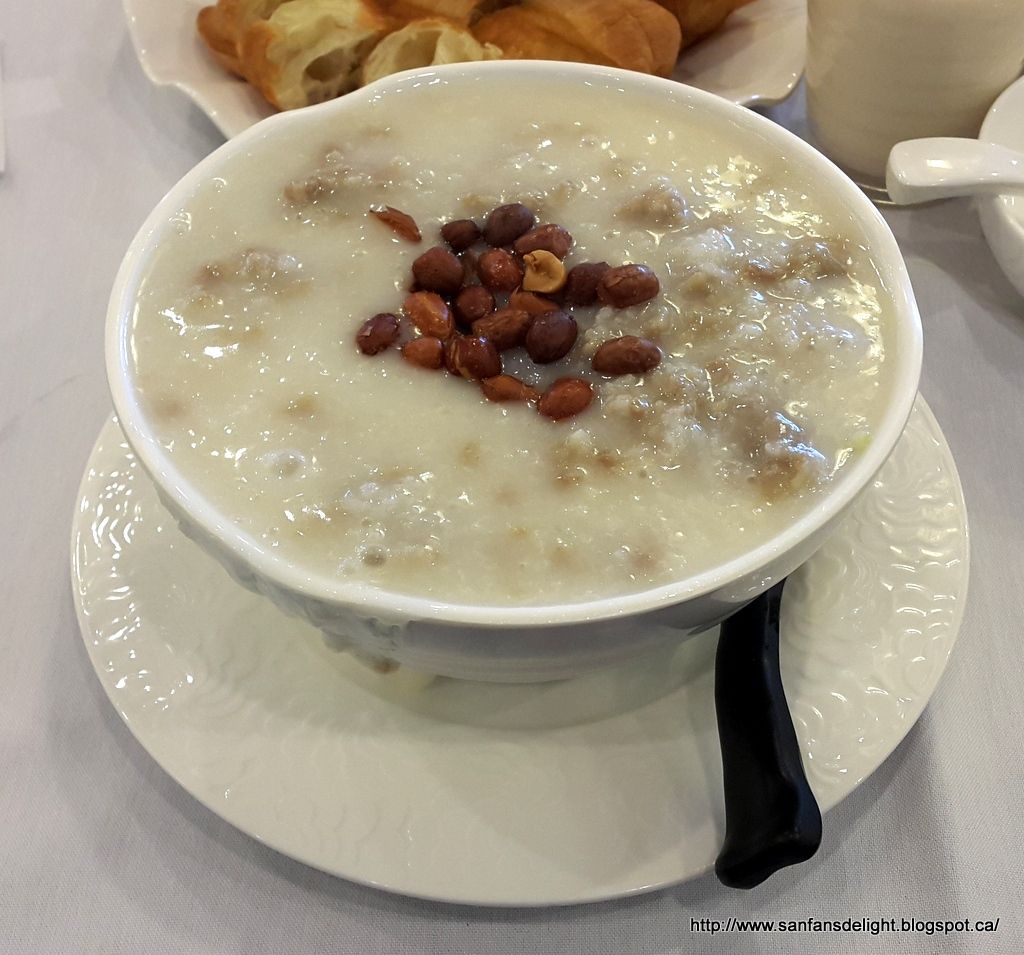 This one is preserved duck egg with salted pork and peanuts.  It was quite smooth and not too salty nor too much MSG.  I realized it had lots of salted pork at the end as they were all in the bottom of the bowl.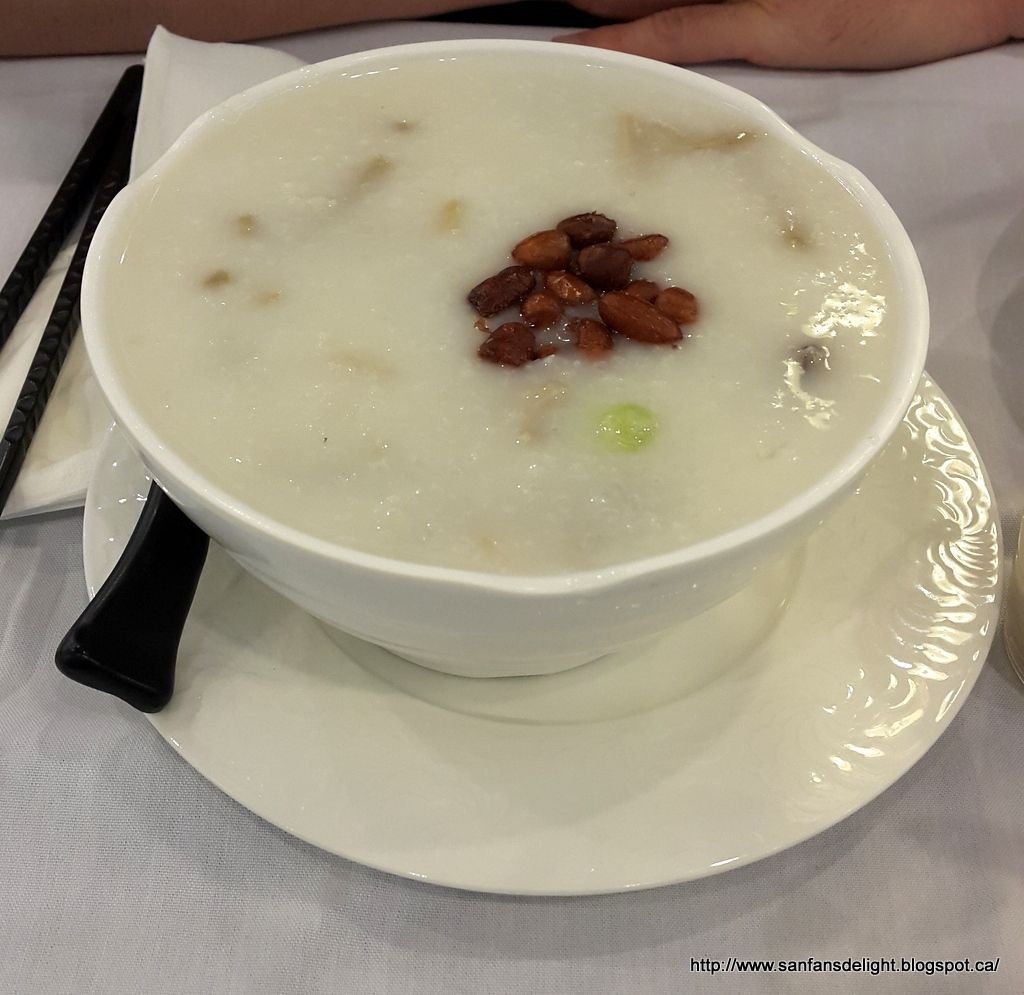 Ok, food it was good but a little pricey though for $9, even if you are getting a soy milk.
We noticed the table next to us who were there way before us had a different menu.  It was a breakfast special menu which I recall seeing on Zomato.  According to the menu, the breakfast special was supposed to end at 11:30am so we wondered why we did not get that menu seeing that it was just a few minutes past 11am.  We asked the server and she said it ends at 11:00am.  OK so perhaps they have special rules for the weekend and holidays so I thought nothing of it.
But then I thought back to the beginning something clicked as to why we had to wait for a table despite so many empty tables.  The cheap manager did not want people ordering from the breakfast menu, so that is why we, along with other parties were made to wait until up to 10 minutes, until 11am!  Why else would he look at his watch before letting the hungry patrons be seated??  This is bad business practice which I am happy to share with you.
The restaurant is not very crammed and it is in a quieter part of Richmond without the traffic nightmares.  The lot is big but you can find free street parking as well.
Food is good but certainly overpriced for the non breakfast menu.  If we were to come back it will be for the breakfast special menu which looks to be better or at least, more fair value.  The manager's timing of seating customers is unforgettable.
SFDD gives 2.5 out of 5 Delights.