On Sunday night we went to Sanbo Restaurant on No.3 Road in Richmond for dinner with some family members.  Sanbo is located in the old Staples Strip mall, where Bob's Sub is located. We made a reservation for a party of 5 for 6:30PM.
After we placed our order, the waitress gave us complimentary soup, which was big enough for five people.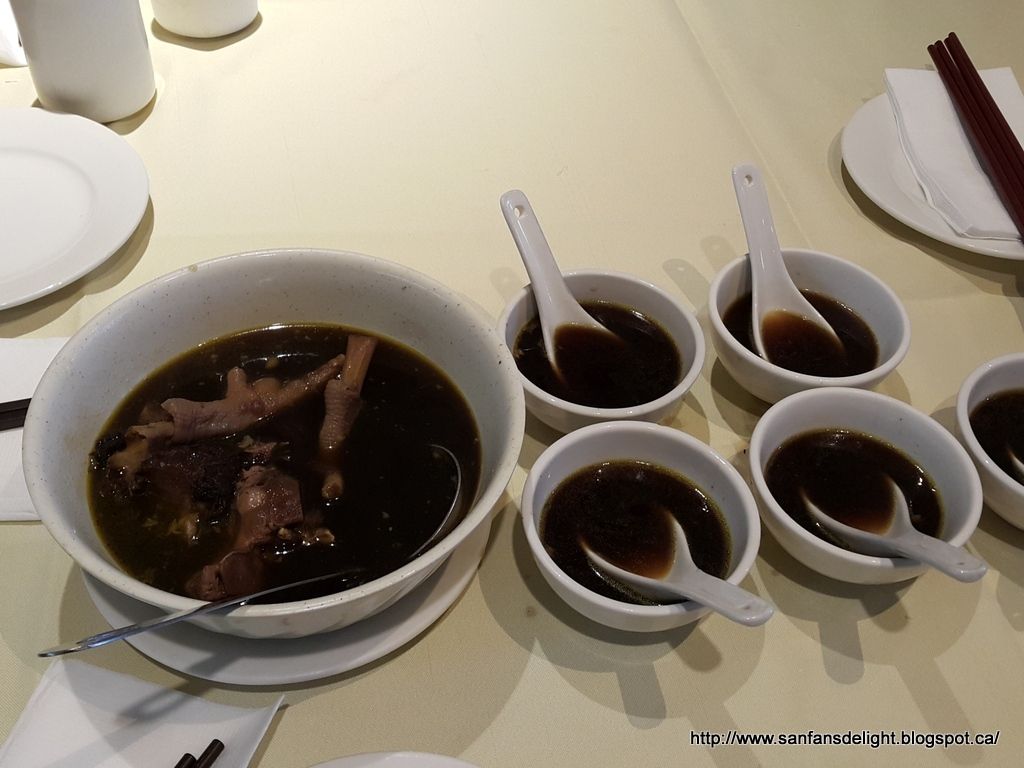 The soup was made with chicken feet and pork. The soup was hot and did not have a strong MSG flavour.
The first dish arrived was soy sauce chicken. As this dish had to be reserved in advance, we were hoping it to be special.
However, it was over-cooked and it tasted just like one where you can buy from a regular Chinese BBQ place.  This Famous Chicken was $14 and note that it is only half a chicken.  It did not even taste like it was free range chicken as it was quite fatty. It was definitely regular chicken.
The second and third dishes were the deep-fried egg tofu with imitation crab meats ($15) with bak choy" and the peach sauce pork chop ($16).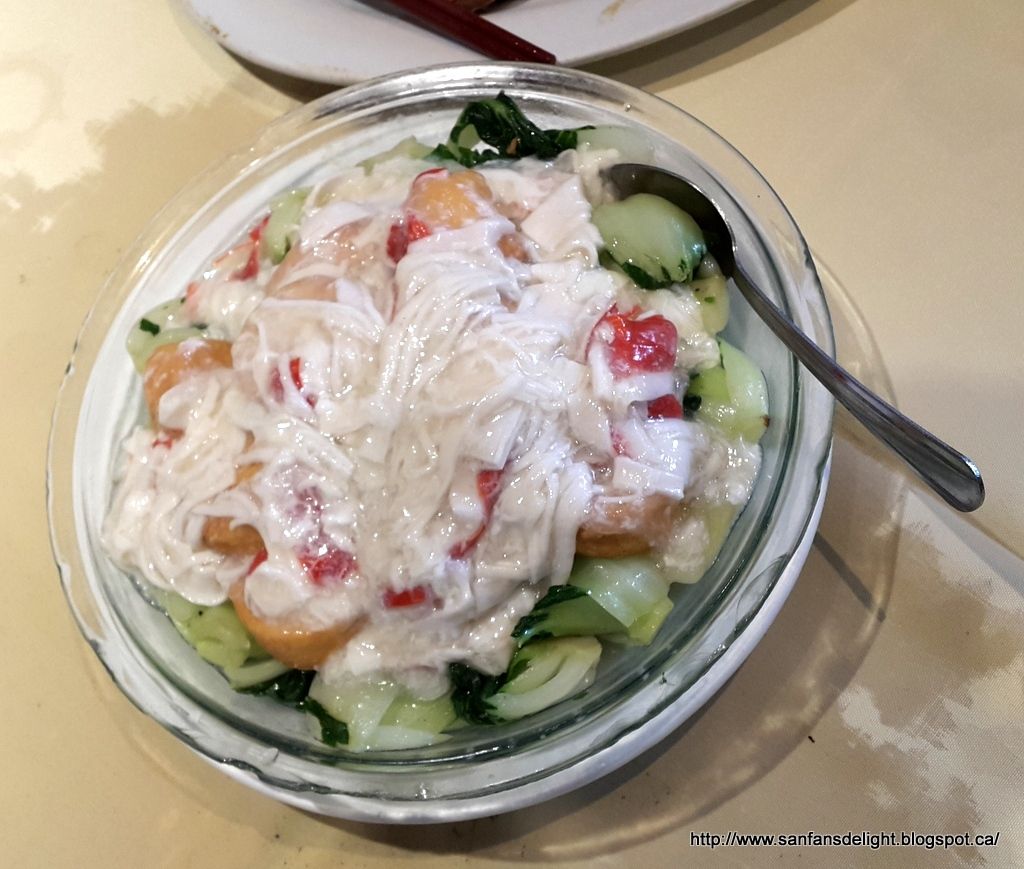 Both dishes were freshly made and hot. The sauce of the pork chop was sweet with a hint of sourness and was delicious to be served with rice. They used boneless pork chop which deep-fried with a light batter and cut into slices before mixing with the sauce. It was topped with some fried walnuts which made it extra fragrant.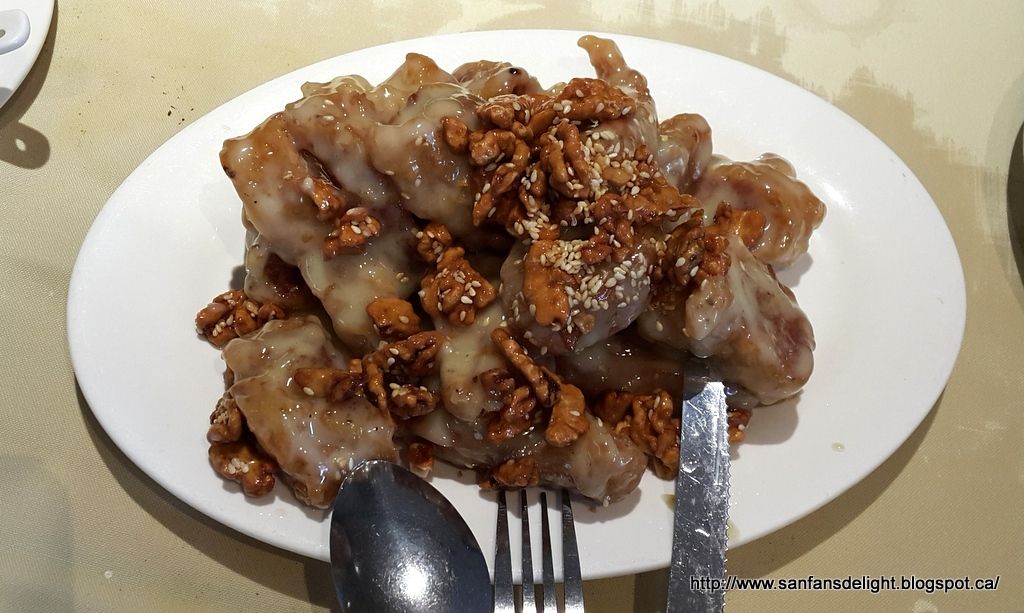 It took a long while before our last dish was served. We ordered the dried scallop on pea leaves ($16).  It looked delicious when we sat down at the beginning and saw the next table had it.
We specifically asked to have the same dish as the next table. However, when our dish came, it looked totally different. Instead of using sauce made with the long, thin white enoki mushroom, our order came with fresh Chinese mushroom.
In addition, there were only very very little yiu chu. Nevertheless, the "dau miu" vegetable was cooked with the right timing, so it wasn't too stiff.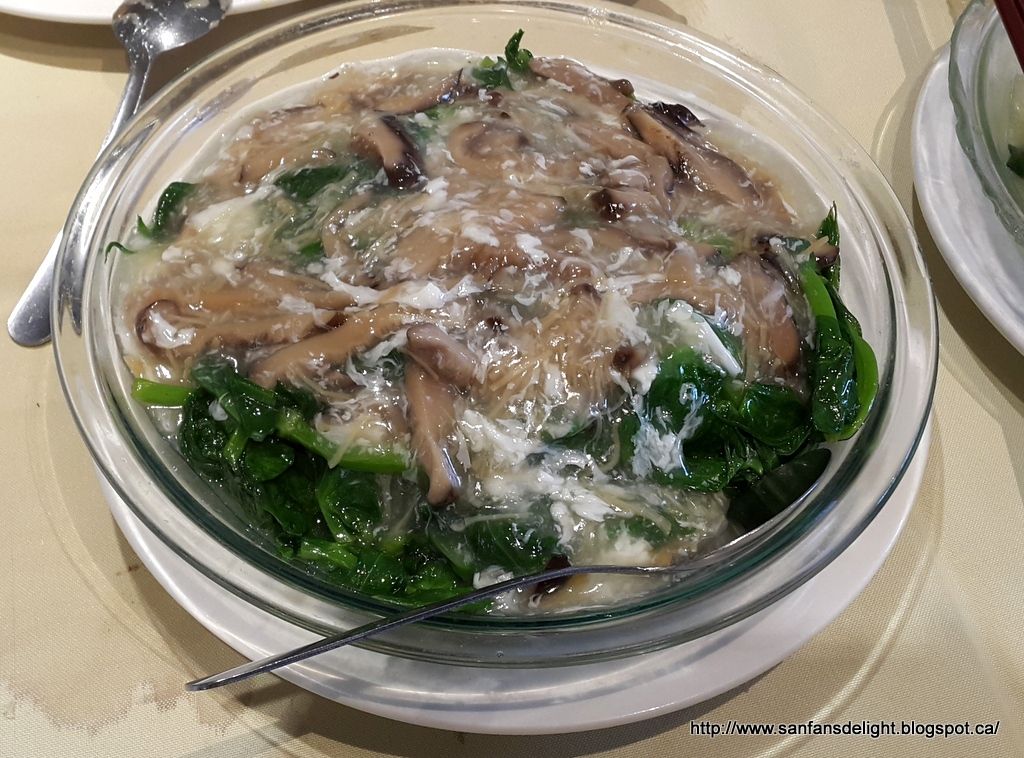 Overall, the size of the dishes were decent. However, they used too much corn starch in their sauce. Therefore, the sauce turned into a thick glue-like paste shortly after when it cooled down.
The restaurant also gave us complimentary dessert at the end, which was green bean paste.
Parking is convenient here as it is a large parking lot.  The restaurant itself is not too pretty.  It is packed tight with tables.  Service is average.  We had asked one of the waitresses to follow up with our last dish when it did not arrive.  She was absolutely sure it was on the way, and did not even bother checking in the kitchen for us.  After 10 minutes, the dish still had not arrived but this time we asked another server.  This person was kind enough to actually go in to check for us and made sure it was coming and gave us an update. 
Prices here are not cheap because they don't have a set dinner menu so it's pretty much a la carte.  It was rather busy though as people continued to wait for tables during our visit. The best dish tonight was the fried pork chop.
SFDD Gives 2.75 out of 5 Delights.