We visited Old Crow Coffee after seeing the interesting pictures on a couple of blogs. Old Crow is located on Front Street, underneath the quay parkades that's being torned down starting this week. It's a rather dark part of New West due to the parkades blocking out the natural light.
Their drink menu is displayed clearly on the wall. They also have a food menu on the left too.
When we first arrived, we thought there was a power outage. This coffee shop is very dark. It was 2pm in the afternoon and sure it was a gloomy and rainy day , but the coffee shop hardly had any lights inside. Was this to save electricity costs? Right away we didn't feel this was going to be a comfortable place to hang out.
Next thing we noticed was that there were hardly any tables. There were maybe 3 normal tables, then some bar type seating by the window, and some stand up tables near the middle of the coffee shop. Also there were 2 sofa chairs but that's about it. We were surprised with the seating arrangement (lack of) because the coffee shop is actually very large space wise. We did not understand why it was arranged like the way it is. Perhaps they don't want people to stay too long.
Anyway, we ordered a latte and a mocha. This is the 12 oz latte: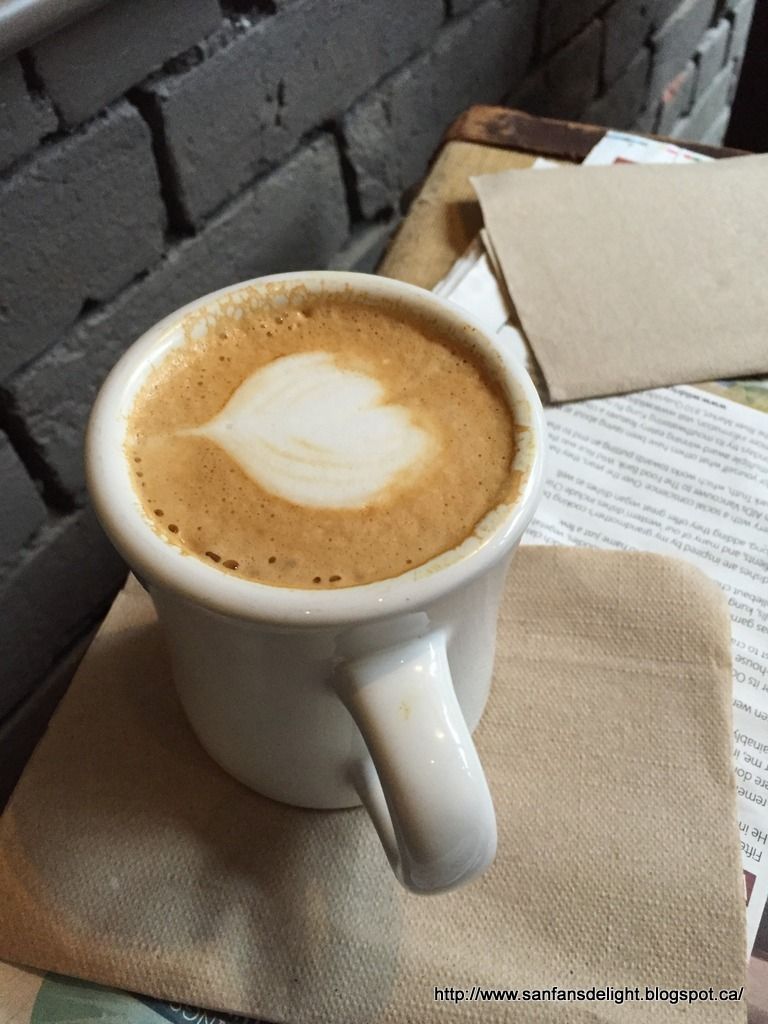 Some effort was made with the latte art, but not as nice as the ones we got from Parallel 49, Cafe Artgiano, and Prado. Furthermore, they used regular coffee cups for our drinks. Aren't there special shaped cups for latte and mocha drinks? I guess not. The flavor was just alright. Not as bold as we'd like though.
One other thing we did not like about the environment was that one of the employees started singing loudly with the music playing in the background. Kind of felt like we were in a bad karaoke bar for the most part... Really!
We were hoping for a coffee shop that was nice and quiet where we could catch up with reading but this is definitely not the place with the lack of lighting and the karaoke barista.
Something nice to write about was their washroom. The washroom was nice and bright and was rather large and spacious. They only have one unisex washroom though so you may find yourself lining up to use it.
SFDD gives 2 out of 5 Delights.