We were back in Washington for the long weekend so we again hit up the Cheesecake Factory out in downtown Seattle.  The precise location is at 700 Pike St, Seattle WA.
View Larger Map
It was a Sunday afternoon so it was quite packed.  The hostess quoted a 45 min wait but after standing around it ended up only being a 20 minute wait. 
After the wait we were seated with water and bread brought to us not too long afterwards.
The both of us ordered from their special lunch menu where the meals are a smaller version of their regular size.  As we review our last entry from Bellevue, it turns out we ordered the exact same meals!
First came the turkey club with broccoli soup.  This was not small at all. It was consistent with the order from the Bellevue location.  It came with a tossed salad and ranch dressing.  The sandwich had a big portion of turkey slices, veggies and mayo.  The soup was creamy and flavorful.  My only gripe was that the salad was not as fresh as it should be.  It was too bitter to be called a fresh salad.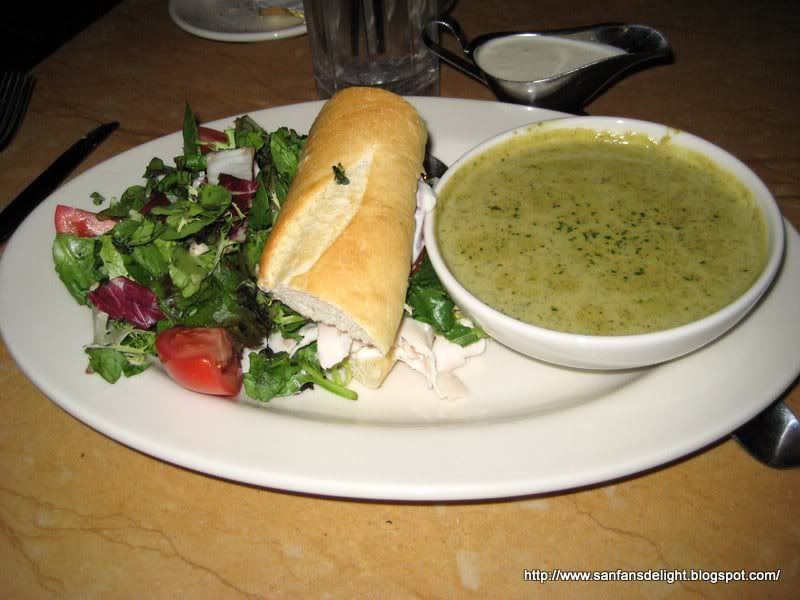 Our second meal was spaghetti with meat sauce.  Sauce was good and the pasta was 'al dante.'  The portion was also quite large to be considered a miniaturized version of their regular dish.
The service was friendly and the wait was not too long despite being a Sunday afternoon.  Aside from the not so fresh salad, everything else went well.  You may have noticed that we did not order cheesecake this time.  This was because we were way too full after finishing up our meals.
For this lunch,
SFDD gives 4 out of 5 Delights.